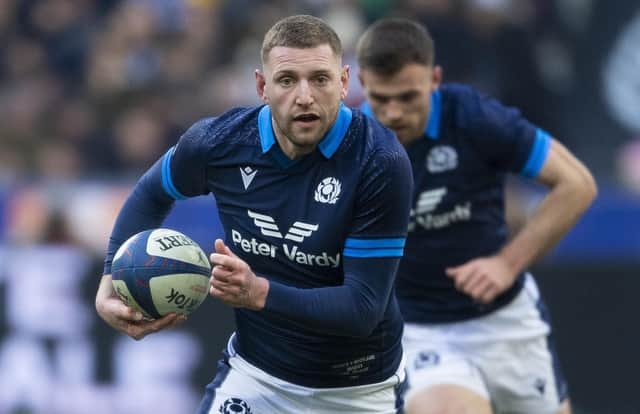 So I'm wondering: could a trophy be speedily instituted – commissioned and crafted by the end of the week – for Scotland's performances in the Six Nations thus far? A special, one-off, just-beyond-midway-stage cup or plate or quaich (very rugby) or, michty me, even a pewter spittoon in recognition of so much thrilling play and those – count 'em – 11 tries?
I know we've won two already and sure, Ireland have one more try than us but maybe Duhan van der Merwe's first against England qualifies for double, particularly if Gregor Townsend had elected to play his It's a Knockout joker.
That's a reference – from a hoary old TV game show, inter-town contests of considerable absurdity – which may be lost on the young. The programme dates from a period in history, though, when rugby's northern hemisphere knocked seven bells out of each other for no tangible reward.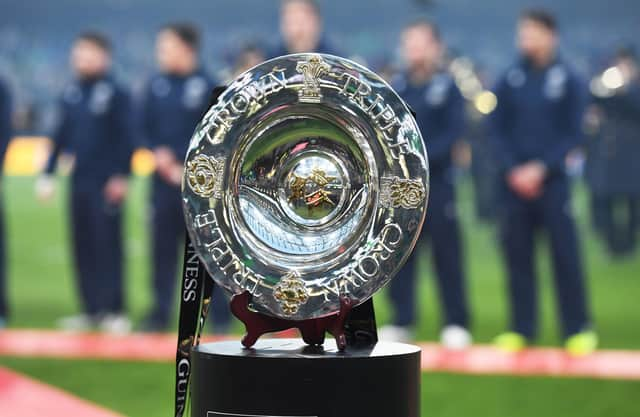 These days the British and Irish Lions compete for shiny doorstops whenever they head out on tour. Just about every Six Nations game has one as a reward, even Scotland's encounters with Italy which not so long ago used to be the decider for who was going to avoid collecting the wooden spoon, itself thankfully invisible.
I am not really opposed to any of this but it does mean that – no hardship – I stand in even greater awe of the guys from the pre-trophy era (Calcutta Cup excepted). It's a Knockout would have been a literal description of their clobbering contests where the only respite, if it could be termed such, came with a half-time pause on the pitch with no shelter, nowhere to sit and just a piece of orange to sook while trying to shake off the hefty dunts.
At the end of Scotland vs France at Murrayfield in 1984 when we'd won the Grand Slam there was no prize for that or the championship or, two weeks earlier, the Triple Crown. Rev up YouTube and you'll find a clip of Bill Beaumont, who was assisting Bill McLaren with commentary that day, interviewing the heroes in the gloom of the tunnel. The great Peter Dods' only memento is the giant keeker which has caused an eye to close. The great Iain Milne – truly a Bear with a sore head – sports an even bigger black eye.
The Triple Crown? What a misnomer. A name promising lustrousness, even ostentatiousness, which in reality when mud-caked hands were poised ready to clasp, turned out to be once, twice, three times non-existent. Or at least it did. For now there's a cup and Scotland will be going for it next Sunday, to add to the Calcutta and the Doddie Weir Trophy.
Seriously, I'm not suggesting the current team receive a gong for completing three-fifths of a tournament, especially since the most recent game ended in defeat. But it cannot be said often enough how good they have been. How bold, flair-packed and exciting.
Townsend's Scotland are the great entertainers. Unless he has a stinker against the Irish then Finn Russell, inset, will probably win the man-of-the-tournament prize because now there's one of them as well. But Sunday will be some affair.
The Irish could come rumbling into Edinburgh and squash us. Possibly, their New Zealand-born monster winger James Rowe could do that all by himself. But while Scotland have promised before, only to have the spark snuffed out by a big, serious, clinical, unforgiving outfit, this time it could be different.
Now, there's already been some Irish muttering about us. We're talking too much, talking ourselves up. I can't say I recognise this about Scotland or its supporters. We're all too aware of those age-old frailties and flattering to deceive.
Yes, point out our friends from over the Irish Sea, but you're wanting a piece of silverware struck for being more adventurous than England (not usually difficult), defeating a poor Wales and losing to France!
I'm not, not really; rather, just savouring the moment. Paris in previous years might have been our reality check, where we would not have been permitted the time and space to continue in a cavalier fashion, and might have turned up a bit timid in any case. But that is not what happened. Just about everyone's favourites a year ago for a home World Cup triumph spent all but the last few minutes pinned back by the Scots as the team, with the Stade de France as quiet and anxious as it's been for a while, almost completed a remarkable comeback. That didn't happen either. The precision of the previous games – forwards joining the line at Twickenham, Russell firing those crossfielders bang into the corners against Wales – was missing at crucial moments.
So no prize for being a bonnie team. But do they really matter anyway? My favourite story about sporting bawbees comes from football and a 1965 summer tour of North America undertaken by Hibernian. For scoring seven goals in Ottawa, the mercurial midfielder Willie Hamilton was presented by the hosts with a handsome silver salver. Ta very much, said the bold Willie, who when at the airport according to Leith legend folded the plate in half so it could be slipped into his holdall.
Some doubt has been cast on this yarn but it does sound very Hammy, who was as fond of Bacardi as he was nutmegs and would astonish team-mates passing him on the M8 by laying his morning paper across the steering wheel to read as he drove.
The Triple Crown, by the way, has been fashioned by Edinburgh jewellers Hamilton & Inches (no relation). Finn, if you get your hands on it, just be careful …