Aidan Smith: I'm with Ange Postecoglou - let's kill VAR before it kills football
The man from Sky Sports was breathing heavily. The network's Monday Night Football had gone epic. Tottenham Hotspur vs Chelsea was the Apocalypse Now: Director's Cut of EPL derbies. And the post-match interviewer was pressing its combatants for words to fit.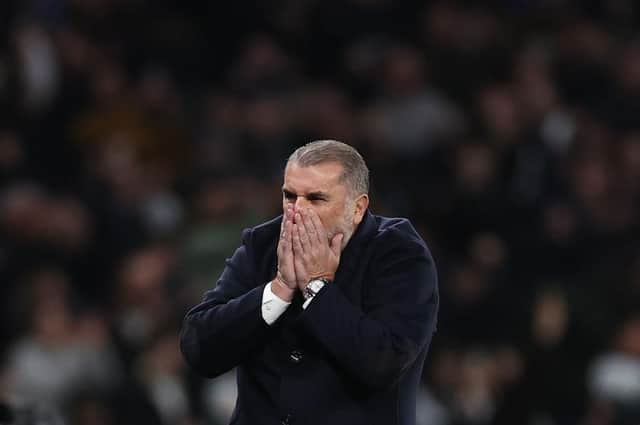 "Have you EVER experienced anything like that?" he asked player after player in front of the sponsors' boards. Now, footballers rarely get excited immediately following the final whistle. They're knackered for one thing. For another, they're programmed to respond by media training sessions which teach them to keep comments low-key and non-controversial. For yet another, they've been consumed by 90 minutes of intense action and it must be difficult to immediately step outside the whirl of a game and offer up an insightful critique. In this I sympathise with players but only up to a point, for as we all know they do tend to be pretty boring.
This can't have been going down well with the Sky producer, though. Where were the gasps? Where was the hyperventilating? Where was the spontaneous combustion? Possibly he was yelling into the earpiece of the reporter in the tunnel: "When's Francis Ford Copolla coming out? We need him to talk about the nine VAR checks, the five disallowed goals, the two red cards and the 21 minutes of stoppage time and we need it NOW!"
"Er, boss, don't you mean Ange Postecoglou?"
"WHOEVER! JUST BLOODY GET HIM!"
And then the Spurs manager appeared. The interviewer tried one last time: "Have you EVER experienced anything like that?" Unfortunately for the broadcaster, Postecoglou didn't explode. Just not his style. He's his own man in a world of copycat behaviour. But he did come out with a line that was classic Ange and summed up not just Monday's game but football generally right now: "I'm spending far too much time just standing around."
NINE visits to the infernal monitor? TWENTY ONE additional minutes? (Sorry, Sky's excitability is catching). Any more of this craziness and football won't be football anymore.
Honestly, were you in thrall to the "drama" provoked by VAR at the Tottenham Hotspur Stadium? And the "drama" of Newcastle United vs Arsenal two nights before with the long, long wait for the verdict which ultimately won that game? And the "drama" happening simultaneously at Hampden and the delay for the ruling which - eventually, with the stewards about to lodge claims for overtime - ruled out Hibernian's goal against Aberdeen?
Or were you with Ange, hands in pockets, kicking the turf, shaking his head and JUST STANDING AROUND in despair at the whizz-bang technology which was supposed to improve football and make it less disputatious, not worsen it and cause even more arguments?
Of course the problem is not the whizz-bang technology but the human beings supposedly in control of it. They're simply not. Half of the officials are behaving like kids on Christmas Day, unable to leave their most-desired toy alone. The other half are behaving like zombies and it's VAR controlling them.
All those worried about AI and the dangers of ceding power to robots need only look at how the reliance on a second, third and 19th inspection of incidents in a match is ruining football. As George Orwell almost wrote in Nineteen Eighty-Four: "If you want a vision of the future, imagine a boot stamping on an opponent's calf over at the far touchline and replaying it on a screen for ever."
Postecoglou last Monday asserted what football should be, what we must all want it to be, and what he's attempting to fashion at Spurs: rapid, attacking, exciting play. But how is that even achievable when there are so many interruptions and hold-ups with the on-field referees becoming impotent in the face of the fetishisation of VAR? As my colleague Alan Pattullo put it so smartly in his Hampden match report in this paper regarding Martin Boyle being thwarted by a ghost-like intervention: "We are now in the business of chopping off goals for barely perceptible infringements."
The men in black might well be in need of Viagra. Certainly VAR-agra isn't doing them any good at all. And football had better be careful here. Fans of a certain age - me included - remember when games chimed with Postecoglou's ideal. Of course when we lose ourselves to a nostalgic-drenched YouTube evening those old matches sometimes turn out to be not as fast as we remembered, or quite as skillful, but the action was always pretty constant with players all facing in the right direction and being progressive.
Now the ball spends much of its time being popped sideways and back. Goalie to full-back and then goalie again. Goalie to the other full-back and repeat. Time-wasting can begin as early as the first quarter. "Managing the game" is a euphemism for killing it. In between, players will "draw fouls" or cheerfully settle for them when you think: couldn't they carry on running? So the game is slowed right back down again. These days, it might not be as quick as it likes to think.
The Spurs-Chelsea match was quick enough. But by the 55th minute the ball had only been in play for 23 of them. Blame VAR for that. It was the contest's major talking-point, as it was for the other games, as it's been for far too many already this season.
Get rid of it? I would. Football has always thought of itself as free-flowing next to the stop-start of rugby but can no longer claim that with conviction. And rugby deals with contentiousness slickly and provides clear explanation. Football can only baffle and infuriate, leaving us all like Ange and spending far too much time just standing around.
Comments
 0 comments
Want to join the conversation? Please or to comment on this article.