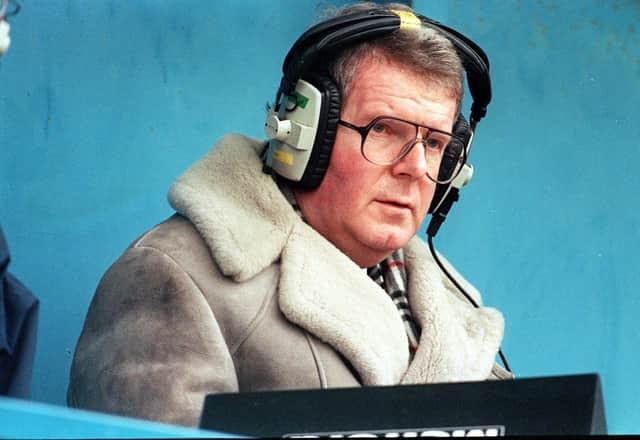 "The modern player doesn't understand how the working man earns a living," Motty remarked after switching off his mic for the final time. "The closeness between footballers and the public is lost and the game is poorer for it."
You could extend the disconnect to football's administrators and, specifically in Scotland in the countdown to today's first cup final of the season, the smart people in charge of the TV deals.
How is it that the Old Firm battling it out for what some of us still call the League Cup at Hampden is not being piped for free into every living-room in the land?
Okay, I know how that's happened: the broadcast rights have been sold to Viaplay. What I mean is why. Why is this allowed? Why is a national final of the national sport in the national stadium not viewable by the nation without the need for yet another subscription?
You might think this a bit Motty, a bit jumpers-for-goalposts (at his Methodist boarding school this was his football, falling foul of the rugger-favouring masters). You might argue that not even a traditionalist such as Motty has been able to halt the tide of the sport's progress - even if perched in defiance at the shore's edge in his trademark sheepskin coat, surely more sturdy than whatever it was that King Canute wore.
But how is it "progress" to debar so many from watching this eagerly-awaited contest? Unless they're willing, or more crucially, able pay for the privilege, slap bang in the middle of a cost-of-living crisis? On top of what they already fork out to watch football on Sky, BT Sport, Amazon Prime, etc?
This working man cannot afford Viaplay and even if he thought what the heck and tried to smooth a one-off payment through the joint bank account, his working wife would be severely dischuffed. Carl Starfelt and, for the sake of balance, Ryan Jack are simply not worth what I could end up losing as punishment, if you get my drift.
This isn't the first showpiece terrestrial viewers have lost recently. The 2021 Scottish Cup final was only broadcast on Premier Sports, same with last season's League Cup final. There were lots of grumbles, compounded by the fact that this smacked backside-no supper treatment of the subscriptionless extended to there being no highlights at night for general consumption.
At least the Rangers-Hearts Scottish Cup final last May was shared between Premier and BBC Scotland but there aren't any concessions on offer from Viaplay this time. Swedish-based, the streaming service are lining up the lumpen Scottish fan-constituency and thwacking us with herring sprats or birch twigs, possibly both. No sharing - and no highlights either.
Sometimes it seems that the dystopia is already here. We're having to stump up for pretty much everything that used to be free. Certainly cup finals on TV and dentistry - a friend was last week quoted £900 for root canal treatment. But perhaps you think my nostalgia for the country all sitting down at home to watch a top football match is prompted by Motty's passing. Well, pay-per-view has always irritated me - fans already give so much financially, never mind emotionally - but what's wrong with reflecting a bit on a golden age, no matter that it was played out on brown pitches?
None was browner than Hereford United's Edgar Street gluepot where Newcastle United came monumentally unstuck in the FA Cup in 1971 and John Walker Motson's description of Ronnie Radford's screamer launched a 47-year career of boyish glee and borderline self-combustion (somehow, calling Motty's commentary style "orgasmic" doesn't seem right).
The golden era of football on TV was two channels, very few live games, one commentator per match, none of them verbose. You might call this approach "Wee Free" if that wasn't such a contentious phrase right now. But I didn't feel deprived. I didn't want live football every night as there was last week (honest, I didn't). And I certainly didn't need Robbie Savage at Old Trafford blarting non-stop and failing to acknowledge bewitching Barcelona tiki-taka before they were overwhelmed by Manchester United.
A Scot evaluates an English-based commentator based on how jingoistic he is - how much you want to shut him up with a well-aimed pie. At the same stadium in 2001 Motty screeched "Beck-hammm!" as the sainted David's 93rd minute free-kick against Greece salvaged a disintegrating Three Lions World Cup campaign. But he qualified his exuberance immediately: "That's a fantastic ending to a very, very poor performance." The camera then cut to Sven-Goran Eriksson and Motty remarked: "He's a lucky manager."
His famed swottiness once produced this observation: "Without, I hope, sounding morbid or irreverent, it is an unhappy coincidence that a number of leading football personalities have died on a Wednesday." Motty left us on Thursday. He seemed to be without ego - nothing wrong with having one, I loved David Coleman, too - but leading football personality was him, alright.
"It's true that the game has changed so much and in many ways not for the better," he said after announcing his retirement. "I'm uncomfortable with the size of salaries and the division of money between the clubs. But it is still the game. It is still beautiful and it still has the power."
Today at Hampden should have the power and might even be beautiful. Let me know how it goes. I was always going to be watching the rugby anyway.