Aidan Smith: You've only made a routine tackle. Why all the hugs and high-fives?
Your team have scored a goal. Maybe it's a 93rd-minute goal in a hostile place to salvage a draw, just like Lawrence Shankland did on Thursday night. Cause for celebration, right?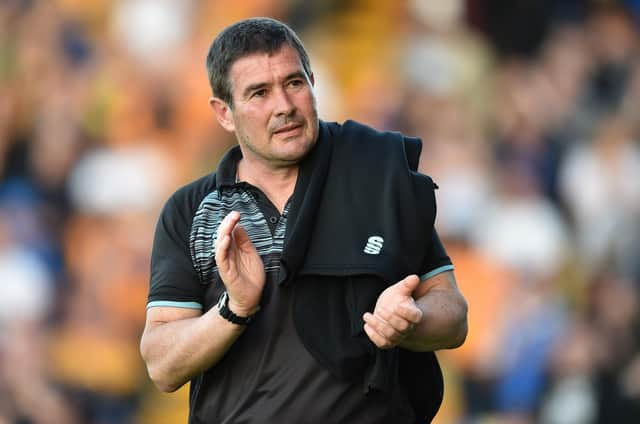 Of course. Joy unconfined as the players go berserk. Part of the game. A spontaneous, natural, human response. But isn't it all getting just a bit out of hand?
Nigel Clough thinks so. The manager of Mansfield Town has ordered his men to cease the wild jubilations after scoring. He doesn't want them coming back to bite the League Two side on the bum. Save your energy, he cautions. The final whistle, if the right result has been achieved, is the time to celebrate.
Is he showing his age? (Clough Jr is - goodness me - 57 now). Is he sounding more and more like his quirky, contrary dad? (Nothing wrong with that). He points out that in his day the goalscorer got "a pat on the head or a handshake".
Such modest congratulations will probably never return to football but I agree with him on his main point. These days players mob each other like war has ended, like hostages have reunited with loved ones, like kittens tumbling over each other at feeding time.
And it's not just the players. Over on the touchline managers do the same with their coaching staff. Football people are highly suggestible, but who started this trend that they all now copy?
Ange Postecoglou when he was at Celtic always seemed unsure about goals being sufficient reason for getting orgasmic. A quick handshake with John Kennedy would be all that was required. He never felt the need to snog his physio.
At Hibernian Nick Montgomery is another who, at an orgy, would be perfectly content with a spectator role - unlike his predecessor Lee Johnson who loved to frolic and cavort on the odd occasion his team found the net.
Aberdeen's Barry Robson is another who braces himself for the goal celebration like a 12-year-old boy would a Christmas kiss from a maiden aunt, hairy mole prominent on her upper lip. Meanwhile at Hearts Robbie Neilson was a touchy-feely kind of manager and the tactile tradition continues with Steven Naismith and his backroom men. They're probably the SPFL's top cuddlers, a bouncy, bearhuggy bunch who most closely resemble ecstatic schoolgirls on exam results day. Apart from the absence of hair, that is.
Joking apart, I do feel for managers at the moment. The pressures of the job are enormous and perception is crucial. The manager who's unemotional in the technical area isn't necessarily viewed as a thinker and may risk being regarded as not caring enough. Just as hoisting a brolly on a wet night in the manner of Steve McClaren when he was in charge of England is viewed as being bad form, so a manager can no longer afford to not be animated.
Jock Stein was never animated and neither was Eddie Turnbull. These giants of the Scottish game didn't draw attention to themselves, not least because dugouts were exactly that, requiring play to be studied from a position just below the surface of the pitch.
And when Jim McLean was hoisted onto his players' shoulders the day Dundee United won the league he couldn't have looked more uncomfortable if they'd disrobed him - trademark TV testcard blazer and all.
There's form to being a manager. The post-match handshake adheres to strict guidelines, so the hurried slap of Atletico Madrid's Diego Simeone at Parkhead saw him branded as a weirdo when in fact - by the explosive Argentine's usual standards - this was him being almost warm and generous. Surely there are some bosses who loathe these strictures; they cannot properly be themselves. Players on the other hand seem perfectly content behaving like sheep.
I feel for them, too - VAR has compromised celebrations - though only up to a point. Maybe that's why routine tackles are now marked with hugs and high-fives. Blocking a cross, putting the ball out for a corner, is a centre-back's job, the very least that's expected of him. But does it merit such revelry?
Where has it come from, this over-the-top praise of the mundane? Rugby, perhaps, where front rows gaining slight advantage at a scrum make to pucker up to each other only for their pneumatic physiques to get in the way.
And rugby, of course, can seem more decadent for such acts because when it was amateur these would probably have got players banned. In 1974, after a thrilling victory over England, Gordon Brown hoisted Alan Lawson on his shoulders. "We were carpeted by the SRU for that," the latter told me. "Only quick, perfunctory handshakes were allowed."
Cynics will say that overdoing the celebrations in football is a time-wasting ruse, though referees are wise to it, or they definitely should be. And if we're talking about cold-eyed cunning can I blame David Beckham at all? Yes, I think I can. Most noticeably at Real Madrid, when a goal was scored, invariably by a team-mate less reliant on the ball being stationary, he would be sure to join the congratulations last, jumping highest in the huddle, so that he was prominent in the photographs.
TV cameras positioned down at the corner flags make celebrations irresistible to players far less image-conscious than Becks. I am not against them - my favourite remains Marco Tardelli's demented zigzagging and operatic gesturing after his goal for Italy against West Germany at the 1982 World Cup. But in the 93rd minute in Georgia, while wondering if the Scotland players should have been thinking about getting a room, I admired Steve Clarke's steadfast refusal to recreate the famous kiss from Gone With the Wind with the nearest available member of his retinue.
Comments
 0 comments
Want to join the conversation? Please or to comment on this article.