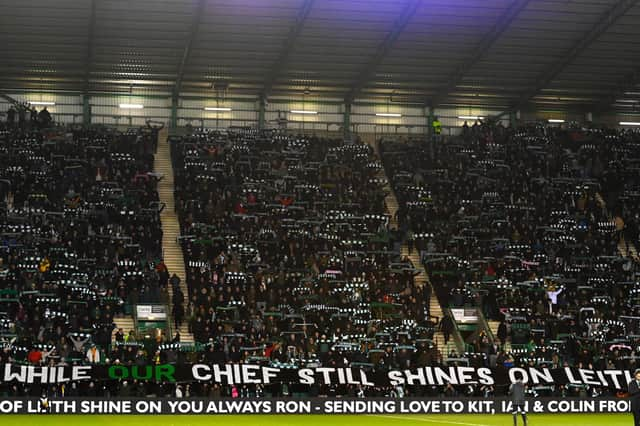 Stop me if you've heard any of these before: first British team to compete in Europe, first in Scotland to have undersoil heating, first with shirt sponsorship. The electronic scoreboard was another first, though apparently steam-driven.
And did you know that Hibs taught Brazil how to play, that the Jarzinho-Gerson-Tostao-Pele-Rivellino forward line from the 1970 World Cup was learned from Famous Five missionary work 20 years previously? Of course you did. Then there are celebrity fans. The Hibees have plenty, including silver screen goddess Scarlett Johansson (check out her film Under the Skin and the football shirt worn by the young man she lures into her van and seduces).
The best of the bests is that George Best once turned out for Hibs – and how many other clubs have made it in the Oxford English Dictionary (Hibsed it, verb: to snatch defeat from the jaws of victory, to do a Devon Loch, to cock up most profoundly)?
Now there's something else. "The best anthem in football," was the boast in the club's official Twitter feed on Thursday after the previous night's rendition of Sunshine on Leith in memory of Ron Gordon.
Now, the Proclaimers' lament sounded fantastic, as it always does, but here's the thing: it's not always heard. If Hibs were winning the Scottish Cup every year it would be. If they were winning every Edinburgh derby at Easter Road it would be. But the fact it's dusted down only occasionally makes it even more special.
Derek Rae, the commentator, was among many to pay tribute to the "beautiful" rendition. He wished there were more songs like it in "Scottish fitba culture" and proposed that Hibs walk out to it before every home game.
I wonder if the club are thinking about this. That tweet suggests to me they might be. Everyone in the hierarchy and behind the scenes who's joined since the cup triumph in 2016 will know of how lustily it was sung at Hampden – clips were YouTubed round the world – and indeed this may in a small way have influenced the decision to come to Hibs. Some of them might have heard it during the Neil Lennon era – to celebrate promotion back to the Premiership and the following season after two wins over Hearts – but not since.
Paul Heckingbottom came and went without it being sung. So too Jack Ross. Same with Shaun Maloney. And Lee Johnson had to wait until Wednesday night to hear it and not in celebration of a famous victory but to mark a sad passing.
Is it top of football's hit parade? Jim Delahunt, the former Scotsport presenter, is in no doubt. For the benefit of younger readers, the hit parade is what we used to call the pop charts, which used to be a huge deal, and Scotsport used to be STV's rival to Sportscene, but here's what Jim tweeted: "I've been privileged to hear a few anthems around Europe and with apologies to my Liverpool-supporting son, 'Sunshine on Leith' is the best. Hampden went round the world but Easter Road tops it."
The debate has been passionate and shows how much songs mean to fans. Rangers fans have been largely absent from it, some of their number at the game deciding to bellow in defiance despite their manager Michael Beale's decent plea for respect. Liverpool of course have You'll Never Walk Alone, as do Celtic, and while some of the latter's fans voted for their standard, others acknowledged that for sheer power and emotion, the cup-winning performance and the one on Wednesday render Sunshine on Leith unbeatable.
And that's really my point. On both occasions the Hibee faithful truly had something to sing about. Hibs being Hibs with their propensity for Hibsing it, that doesn't happen very often. If Sunshine on Leith was played over the public address when the opposition were, no disrespect, Ross County with their tiny huddle in the away end and it was tipping it down in mid-November with the club on a winless streak (a possibility) and the fans grumpy (a certainty), what would the song sound like then?
Hearts fans have been generous about their rivals' anthem. Not just the best in Britain, remarked one, but anywhere. Some Jambos nominated their hoary old Hearts, Hearts, Glorious Hearts because it's an actual football song, all about the club and their defence being as strong as "the old Castle rock", rather than an admittedly lovely ballad which makes no reference to Hibs.
But doesn't that make Sunshine on Leith even more special? It certainly makes it unique. There's always that feeling of regret when you hear another club's fans singing a song you thought belonged to your team, having been coined by the local version of Burt Bacharach's lyricist Hal David. Then the copyright dispute breaks out. But Sunshine on Leith is exclusive to Easter Road. Never mind the broken hearts and all that "sorrow, sorrow, sorrow, sorrow" – quintessential Hibs – no other club has a Leith.
No, save it for special occasions. That's how it got Sir Alex Ferguson raving about their being "no better celebration in the game". That's how it got fans almost competing over far-flungness, from Bogota and beyond, admitting they couldn't stop listening to it and, yes, indiscutiblemente, incontestablement and unbestreitbar – Spanish, French and German for indisputably – here is the greatest anthem in all football.
Special occasions, then. Over to you, Lee Johnson.