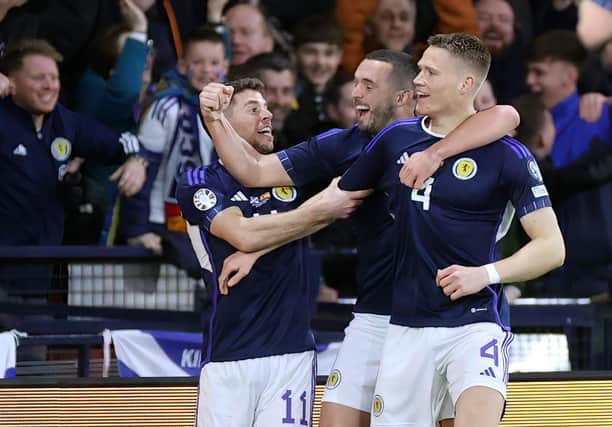 His critique wasn't finished. "On the wing we were pish! On the other wing we were pish! In the middle we were pish!" Lewis tried vainly to salvage the interview. Could the supporter possibly describe the Scotland performance he'd just witnessed in more broadcastable language? The man pondered for, oh, all of 0.2 seconds. "Absolutely pish!"
Now, as some of you will have worked out already, this wasn't post-match reaction to the defeat of Spain. A Billy Connolly programme featured the clip, presumably left on the cutting-room floor, as the world's greatest stand-up reflected on the perverse comedy of football: Scotland's desire over and above anything else to stuff England; the hordes from the frozen north laying siege to Wembley in "kilts and platform shoes"; Rod Stewart having his watch nicked in wild celebrations of victory.
Tuesday was a night to lose your watch. Or your car keys. I love the story Eddie Gray told me of the night in '73 when he was at Hampden as a fan along with Peter Lorimer and Gordon McQueen: "The moment the ball hit the net and big Joe [Jordan] had scored with the most wonderful header there's even been in football [vs Czechoslovakia, World Cup qualifier] was when we all jumped up in the air. Afterwards the pal who'd driven us up from Leeds couldn't find his keys. We had to get a taxi back down the road."
Jane's fan-rant came from a dark time – Scotland's Bad Old Days – but is difficult to pinpoint exactly owing to the fact these days sometimes stretched over entire years. Now we're all excited that the good ones have returned, even though a great optimist such as big Billy might be moved to caution: hud oan! It's true that we have four away games to negotiate. The next one is against Norway. It's seven full days after the Champions League final. This should mean that big Erling – Haaland of Manchester City – will be available (if you get my meaning).
This, though, is where we find ourselves now. This is the perkiness which can spread across the land when we get off to such a flying start in qualifying, two victories last being achieved en route to Euro 96. And the perkiness extends to musing on Haaland vs Ryan Porteous and not totally wetting ourselves as to how that might pan out.
Okay, Haaland has made Snurring – a brand of Norwegian mincemeat, beef, pork and swan, I just looked it up – out of more experienced international defenders than Porto, but still: you never know with Steve Clarke's Scotland. With previous incarnations, alas, you pretty much did know.
Suddenly we're hogging headlines. On the front pages of the Spanish sports dailies. Okay, the headlines are trashing us, but as Oscar Wilde - the boy Wilde, inked on Bazza Ferguson's right arm - put it: "There is only one thing in the world worse than being talked about, and that is not being talked about."
Wilde also said: "Football is all very well as a game for rough girls, but it is hardly suitable for delicate boys." This was part of Spain's problem with Porto & Co last Tuesday: they weren't fey enough. They tackled like car-crushers. Indeed, like Carlos Puyol, their magnificent and, sadly for them, since retired defender used to do.
Extending the Wilde references to a third paragraph - this shows how far we've come under Clarke - the faded aristocrats of Espana were undone by The Im-Porto-ance of Being Earnest. Earnest in the block, earnest in – euphemism alert – "managing the game". This is the Sunday name for time-wasting. Rodri came right out with it on a Tuesday, presumably thinking we'd be outraged. No no, said John McGinn, time-wasting's exactly what we did.
Last week in this spot, writing about England's time-wasting against Italy and bemoaning the practice, I almost wrote how Scotland gratifyingly didn't do it. They had principles. They stood up to the falling-down merchants. Ha! Just as well I didn't try to plant a Lion Rampant atop the moral high ground.
Previously, we didn't run down the clock because we'd never been two-nil up against a team from Fifa's top ten rankings. Incredibly and thrillingly, that was exactly where Scotland found themselves after Scott McTominay slapped that shot home early in the second half.
I want to know what Sir Alex Ferguson said to McTominay when he got back to Manchester United, not what Spain's bad loser thinks. Rodri - you plonker! If he reckons we're "rubbish" then he really should have seen us when we were pish.
This is a case of the paella pot calling the kettle black. Spain – and Italy – can hardly complain about other teams exploiting the dark arts because they've been the undisputed masters for decades. I never thought I'd be cheering inside when Porteous crashed to the turf like he'd been shot. But then I never thought Scotland would be beating Spain, and beating them well.
The last time we did that to them in qualification, second game and by the same margin, we lost the next two matches and only made it to the Mexico World Cup in 1986 after a late winner in Reykjavik and a lucky penalty in Cardiff.
That's the Scotland we know and love and really we've done nothing yet. But let's enjoy the moment for a wee bit longer.