It followed an incident-packed afternoon in the cinch Premiership where, once again, referees and VAR came under scrutiny. Hibs, Ross County, Dundee United and Kilmarnock can all feel aggrieved by decisions which are best described as either controversial, unusual or wrong. It is a case of pick your fighter for the most egregious: Elie Youan's second yellow card for Hibs in their loss at Celtic? Livingston keeper Shamal George careering into Ross County forward Eamonn Brophy? St Mirren's penalty award at Dundee United? Or Kilmarnock not being awarded a penalty for a clear handball from St Johnstone defender Andy Considine?
150 tedious days
VAR was unable to intervene on the Youan incident because it was a second yellow card but it certainly should have led to the other three decisions being overturned. It's been 150 days since the technology's introduction into top-flight Scottish football when St Johnstone travelled to Hibs. One hundred and fifty painful, frustrating and tedious days because, unsurprisingly, it has been far from plain sailing. Each week there is someone, somewhere complaining about something. Whether it be manager, player, pundit or punter. Just like before! Only now there is even more scrutiny, as anyone with the faintest of interests in Scottish football predicted there would be.
We are a footballing country, far from the only one it should be said, who analyse and agonise over decisions. Managers are very adept at using the referee as a defensive shield and it also doesn't help matters when some fans of the country's two biggest clubs – who between them have won 86 of the last 112 trophies – believe there is some sort of conspiracy or at the very least the belief they are refereed differently. Supporters of other clubs, up and down the pyramid, will have similar views that certain officials have it in for them. BBC Sport Scotland, on the back of the introduction of VAR, now has a weekly show called the VARdict, featuring former player Richard Foster and ex-referee Stuart Dougal, reviewing Scottish Premiership decisions. On the one hand you can view it as helpful. Two experienced individuals who are well placed to help the viewer understand decisions better. On the flip side, however, it feeds into this unhealthy obsession Scottish football has with referees. Almost a fetish. And it is only getting worse.
Disruption
It is easy to understand why referees were so keen for VAR's introduction, especially when you see the decisions they are capable of making. A tool to aid them in preventing making game-changing errors was always going to be attractive, as was being able to operate at the highest level of European and international football. The set-up the SFA and referees have at Ballieston is impressive. You can also understand that argument of more time and experience will see it improve, even if leagues who have been operating it for a number of seasons are still finding issues. And, of course, there is a sound argument, as made by Dougal on the latest VARdict, that "VAR is helping a lot more than hindering". It is understood that for big decisions it brings the success rate up by around seven or eight per cent from the lows 90s to the high 90s.
Still, is it all worth it? This writer's view has always been no. Take Celtic boss Ange Postecoglou, one of the managers who has been suspicious of VAR since its introduction. "For me it's more about the disruption it gives to the game," he said after the 3-1 win over Hibs at the weekend. "We had 15 minutes of extra-time purely on the back of officials' disruption. That doesn't really excite me that much." It shouldn't excite anyone. The match-day experience has been negatively impacted. Football is a game which should flow and involve drama. Within that there should be flaws and mistakes, it is a natural part of the game which shouldn't be changed.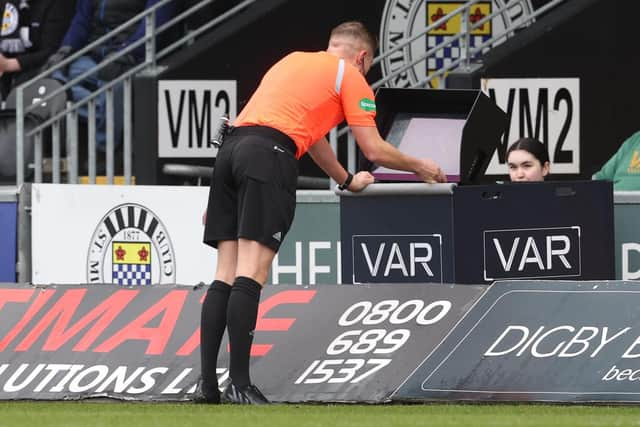 Full-time refs
The reason we have arrived at VAR is this desire for football to be almost perfect and an increasingly pathetic attitude and culture around referees and decisions, from grassroots to the very top. It needs to change. There should always be the pantomime aspect of referees as the villains but that's where it should end. Referee decisions should be scrutinised. But not all the time. Managers who continuously barrack officials should be sent on referee courses.
As for VAR … an increasing number of managers seem to be getting fed up with it, while the likes of Ally McCoist are suggesting it should be dispensed with. That should be reason enough to get rid of it. But it is here to stay. It is difficult to see clubs, having invested significantly in the technology, cutting ties and there would be push back from the refereeing fraternity. Ideally, we would get to the point where there is an opportunity for officials to be full-time and for VAR to be eased out. An unlikely situation due to the possible costs involved. For context, it is reported referees earn £850 per game, and many will see it as a nice side hustle, while full-time referees in the English Premier League are understood to be on between £70,000-£200,000 per year.
Unfortunately we are all stuck in this scenario where no one seems to be happy. VAR is disrupting the enjoyment of the game, mistakes are still being made as expected, the scrutiny is worse and few seem unable to grow up and accept mistakes are part of the game. Dishearteningly, it is hard to see there being any change.