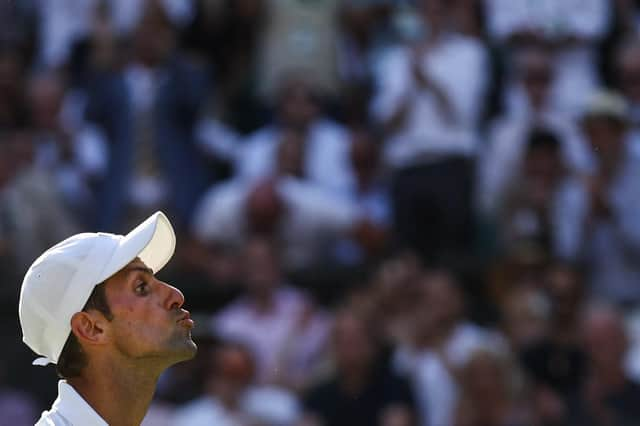 But staring the British No1 down from the other side of the net - and eyeballing his hecklers too - was Novak Djokovic. And as so often happens when the super Serb is chasing a Slam, another one bites the dust.
Although disappointed in the result - 2-6, 6-3, 6-2, 6-4 to a man going for four titles in a row against Nick Kyrgios on Sunday - Norrie was heartened by his tournament. "That was the biggest match of my career and although I didn't like the result, getting to the semis is pretty sick," he said. "I loved every minute of Wimbledon and can be proud of a lot of stuff. I need to keep working hard and keep improving but I want to get to more semi-finals, go one step further and try and win a Slam."
On the sunniest afternoon of these championships, a nation expected. To be precise, Scotland (dad), Wales (mum), South Africa (place of birth) and New Zealand (childhood) shared the intrigue around.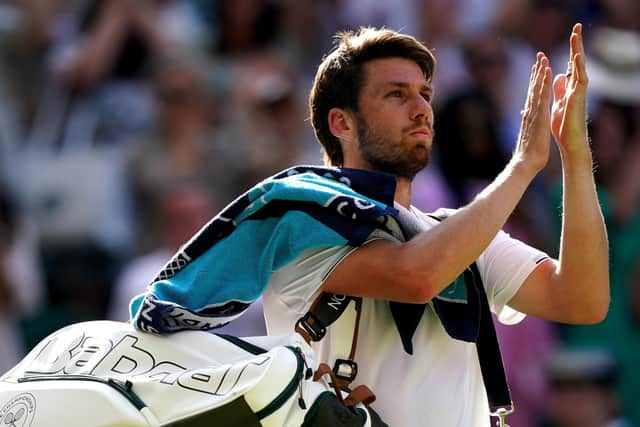 Djokovic opened serve and our brave boy absolutely obliterated him on the point to lead love-15. Wild cheering. Then it was love-30, then 15-40. Game Norrie! A leap from him like he'd won the title, solved all of this nation's ills. Centre, in need of succour from the week's governmental grimness, went bananas, even if Rami Malek, star of the Queen biopic, might have wondered if Norrie had enough hits in him to sustain a full show.
Next game, Norrie drove to the forehand, Djokovic performed his famous bendy toy act, like his legs were wire and foam, and Norrie couldn't find the precision firing to the other flank. Would this be the match in microcosm?
Norrie lobbed, Djokovic tweenered. Norrie found the baseline but, continuing long, overhit. Staying bold, Norrie struck the line again. In the baking heat it was already a muscular contest, Norrie bravely engaging the champ and No1 seed in a bazooza duel and securing the next break. Could he hold serve? Fifteen thousand voices said yes. Though that was nothing compared to when he broke Djokovic again, then aced him to grab the set. "Yes you Cam!" was the shout from high in the stands.
For the second set Djokovic donned a cap. His Playmobil hair can give the impression his immaculate frame is made from the toughest of synthetics, enhancing the robot theory. With the barnet covered he looks less daunting. That's the theory, anyway, though he resumed by serving to love.
Norrie stayed strong on his serve - it was working much better than against David Goffin. Ah, but in his last match Djokovic allowed the opponent two sets of a start. Nothing was being taken for granted. Not against this relentlessness, Djokovic serving to love again. He was getting to 30 on Norrie's serve, then 40. But, salvaging, the latter didn't hold back.
Norrie was finding gold on the baseline and it was something of a shock, given Djokovic's usual omnipotence, to see him so discombobulated. But, going for a fourth title in a row and performing full splits when required, he was still clear and present danger. It was just that Norrie, saving break points, was matching him winner for winner.
Norrie could probably have done with a love game to relieve his serve of the Djokovic pressure but a horrible miss at the net put him in trouble and the best returner in tennis tightened the screw to break. Second set to Djokovic.
Norrie had stopped threatening Djokovic's serve and in any long rally stage-managed by the Serb, beginning as an arm wrestle and turning into Russian roulette, he usually wins.
Opening the third set Norrie had his opponent applauding him for a terrific shot on the run. But then Djokovic broke him.
A quick response was needed but Djokovic wasn't missing the court any more and Norrie continued to do so. Djokovic got lucky with a net cord and the crowd, subdued for a while, groaned. Djokovic held up both hands and might have been contemplating summoning his entire box onto court, along with Serbian beauty Mila Jovovic, to reinforce the apology. Alternatively, he might have been murmuring the words of Boris Whatsisname: "Them's the breaks."
The crowd had tried to rally their man but he was beginning to look punch-drunk from the battering. It was a geometry exam delivered with extreme prejudice. Try as he might Norrie couldn't pass his elastic tormentor who, following rare errors, would exaggerate the reprimand, almost as if to give Norrie's supporters some hope.
In the fourth set Djokovic was more or less handed an immediate break. But some sympathy was required: Norrie was playing a tennis computer on legs, those of a ballerina or gold medalist from the Olympic gymnasts' floor routines.
Djokovic was in receipt of more fortune off the top of the net and up went both arms again. Norrie booted the ball away in irritation or perhaps helplessness. Then a narky voice irritated Djokovic who narrowed eyes in its direction.
Under pressure, as another Queen song goes, Norrie was on the brink of losing serve once more but steadied. At a roughly similar stage in his previous match, he began the job of wearing down the opponent's dominance. Here he ran and scrapped and held serve straightforwardly, the first time in ages. But Djokovic cranked it up on his serve, forced Norrie to run and run some more, and suddenly he was out of petrol. Djokovic blew kisses to his baiter which displeased the crowd and slightly dulled the applause for his victory. He won't care a bit.