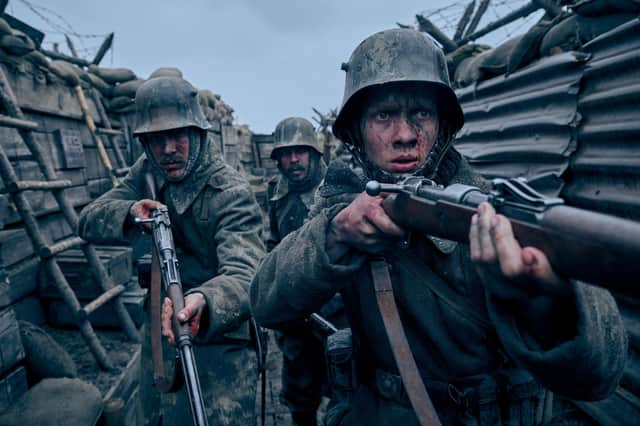 Meeting Hollywood legend Tom Cruise was just the latest mindblowing moment for Scottish scriptwriter, film maker, author and five times world champion triathlete, Lesley Paterson, whose film, All Quiet on the Western Front is tipped to win at tonight's Oscars.
Speaking from LA where she lives with husband, psychology professor and now co-writer Simon Marshall, and just back from four hours of training, Paterson is still on a high from seeing the film win seven Baftas and buzzing with anticipation.
"It's all just very surreal, exciting, joyful. You're pinching yourself. A couple of years ago it was beyond our wildest dreams to imagine we would be nominated and then when you are it's like you've been launched into this stratosphere."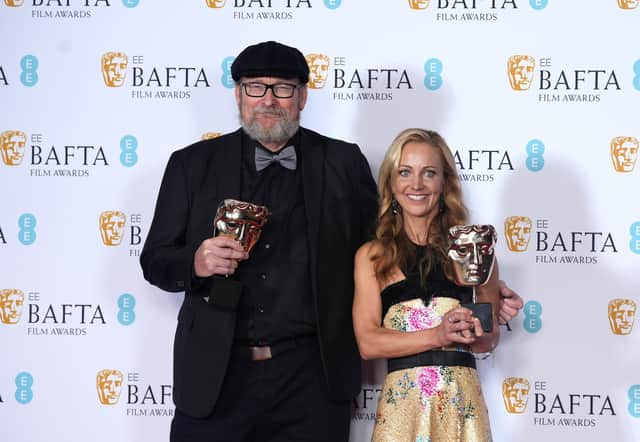 Paterson's dream come true involves rubbing shoulders with Tom Cruise at the Oscars nominees luncheon at the Beverly Hilton Hotel.
"That was crazy," she says. "It's a wonderful chance to chat to your fellow nominees and Tom Cruise was there so I went and spoke to him, which was totally wild. I introduced myself and he said, 'I know your story. How many hours a day do you train?' I couldn't believe it. He's everything you imagine him to be: charismatic, on point. He is prepped on people I'm sure, but the fact he was prepped on me was totally cool."
It's taken the 42-year-old from Stirling $200,000 of her own pentathlon prize money and 16 years of fighting - and running, swimming and cycling - to hang onto the rights of the book she loved at school and turn it into a film. Now the Netflix First World War epic has nine Oscar nominations including Best Adapted Screenplay for Paterson and co-writers Ian Stokell and the film director Edward Berger.
As for All Quiet's chances of beating off the opposition to win big tonight, Paterson, who said back in 2011 when she won the off road triathlon world championship that she wanted an Oscar next, is cautiously optimistic.
"I really think we'll win for Best Foreign Film and then it's 50/50 about adapted screenplay. Women Talking is our biggest competition and it's really tough to tell. I just don't know to be perfectly honest."
As to the film's success, Paterson puts it down to several factors.
"It's a very immersive experience and it's anti-war like we've never seen in that there is no hero, so it's an unusual perspective and one that needs to be heard and seen. And then obviously, given Ukraine, as much as we wouldn't want it to be, it is timely, so I think it's striking a chord. Also, the quality of the craft of the film, every single area, whether it's make up, sound, score, cinematography, all of it is so top notch."
Paterson first read Erich Maria Remarque's 1929 anti-war novel at school in Stirling and was struck by the theme of the betrayal of a youthful generation.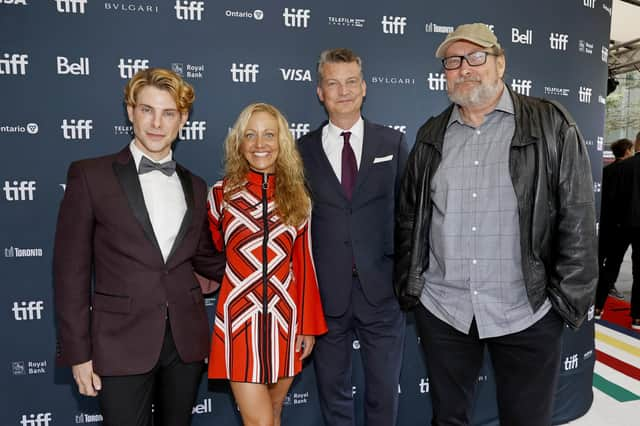 "I think that appealed to me because I really am very Scottish and I've been brought up with the idea that we're the underdogs, fighting against power, so I relate to the idea of the everyman being controlled. Also I was intrigued and empathetic towards the other side. I think it's very important to put yourself in the enemy's shoes and not polarise your thinking because that takes the humanity out of it. Like today, how are young Russians feeling, how are they being manipulated by politicians? I think that's a bigger message in general about life - if we don't really understand the context, how can we make an assessment and learn from it?"
Paterson and Marshall's big Oscar's night will see them staying at the Pendry West Hollywood hotel and attending some of the starriest awards parties.
"We live in LA so we could stay at home, but that's not quite the same. You've got to make a big deal. All the cast and crew are at The Pendry and you want to party with them. Afterwards Netflix will have their own thing I'm sure and then Vanity Fair is the big one and if you win an award, you get to go. But I'm sure I'll get some invites to parties."
If the film wins big and she gets her moment on the podium, has she written a speech?
"Basically you get 45 seconds to say something, and the category I'm nominated for personally is adapted screenplay and there are three of us. It would be really lovely to say a couple of sentences but what can you say in 15 seconds? To be honest you're not really doing it for a speech, you're doing it because you love the craft of it. You want to thank the people that have had an impact but surely they should know already because you've told them."
And what about the dress, can she tell us what she will be wearing?
"No, it's a secret," she laughs, but does reveal it's by the same designers as her sparkly yellow Baftas dress.
"I mentioned in an interview that I didn't have a dress so the guys at KolchagovBarba contacted me and said they'd dress me for the Baftas then do a custom design for the Oscars, so they're flying out to dress me which is just bananas."
The success of All Quiet on the Western Front has opened doors for Paterson and she and her co-writer, co-producer husband have several projects on the go.
"We have a bunch of different projects in development. One is a psychological thriller set in the Highlands which we hope to shoot this year and we have a big African Braveheart story, a true story based in Ghana about colonial escapades in the 1900s and another set in a traveller/gypsy community in Ireland, which is a father/daughter story of unconditional love, plus we've a TV series based on the Navy Seals. So we have a tonne of things going on and we're really keen to get a foothold in Scotland."
If anyone can hit the ground running it's Paterson, who sums herself up as "driven, obsessive, and a bright spark," but was there ever a time when she doubted that All Quiet on the Western Front would ever get made?
"All the time. Every year we had those doubts, but there's something in your belly that makes you believe you can make it happen. I don't know what it is but I just always had a feeling we could do it."