Sistema Scotland accused councillors in Aberdeen of a "heart-breaking betrayal of young lives" by pulling the plug on its project in Torry. Chief executive Nicola Killean said it was "devastating" for the charity to lose its support in the city and accused the authority of "abandoning" local children and families.
Last week the charity, which has run six projects in recent years, lost all funding from Dundee City Council, where it had worked with more than 500 children since 2017.
The Big Noise Torry project, which has involved 30 members of staff and seven volunteers, is said to have supported more than 750 young people since it launched eight years ago.
The Scottish Government has been asked to intervene to secure the charity's work in Torry and Douglas following the decisions, which were taken as the local authorities set their budgets for the next financial year.
The SNP-Lib Dem administration voted through the cut in funding for Big Noise Torry despite 11th-hour pleas for a reprieve, including from world-leading Aberdeenshire-born percussionist Dame Evelyn Glennie.
Ms Killean said: "The decision made by Aberdeen City Council to withdraw its funding for Big Noise Torry is a heart-breaking betrayal of young lives. It is devastating that the council has broken its commitment to the children, young people and families and is now abandoning people in this community.
"Over the past eight years, we have provided respectful and empowering support to help young people reach their full potential and our work is more important than ever."
Councillors also voted to impose a 20 per cent cut in the culture budget, which could affect some of Aberdeen's best-known festivals and events. Hayley Durward, co-chair of the Culture Aberdeen network, said: "We are devastated that any cultural cuts at all have been voted through in the current climate. We will have to wait and see what that means for individual organisations.
"We're devastated at what has happened with Big Noise Torry and Sistema Scotland. Cutting its funding has become a trend, first in Dundee and now in Aberdeen. Our message to the administration here is that we would like this decision reversed."
Scottish culture secretary Neil Gray was urged to intervene over the fate of Sistema Scotland by Labour MSP Michael Marra and Conservative MSP Douglas Lumsden. Mr Gray said: "I don't think this is an issue for local authorities to determine. And I don't think it is for MSPs or for Government ministers to intervene on local government decisions.
"We'll continue to work with Sistema, we'll continue to work with local government partners to ensure we're continuing to provide services that ensure that people continue to enjoy cultural experiences, and children in particular are able to enjoy the types of offering provided by the likes of Sistema to lift them out of poverty and ensure they have aspirations to contribute through culture."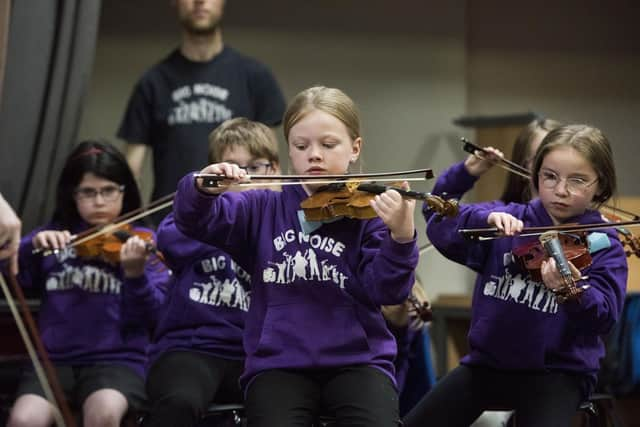 Iain Yuill, co-leader of Aberdeen City Council, said: "We've prioritised what matters most to people – education, the environment, roads and transport – while demonstrating sound financial management that will serve the city well in the years ahead."