Music review: Queens of the Stone Age, Hydro, Glasgow
From sultry funk to nosebleed boogie, variety was the spice of this set from Queens of the Stone Age, writes Fiona Shepherd
Queens of the Stone Age, Hydro, Glasgow ****
Queens of the Stone Age's typeface-hugging double-meaning new album In Times New Roman has emerged from a gladiatorial period in frontman Josh Homme's life – he has suffered personal loss with the deaths of friends including former QOTSA bandmate Mark Lanegan and Foo Fighters drummer Taylor Hawkins, as well as revealing over the summer that he had undergone surgery for cancer last year, and that it was successful.
However, in such moments his magnificent band reached for the relative comfort of their modern rock classics, kicking off this charged live show with two 20-year-old anthems.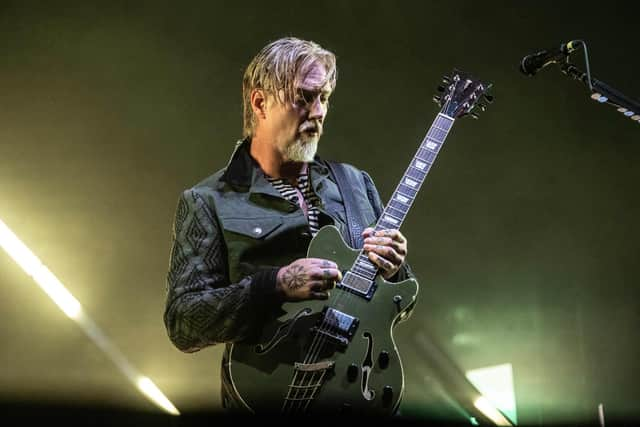 The crowd were singing along to the pugnacious and punchy riff of No One Knows in an instant before the rhythmic momentum flipped to a powerhouse sprint, then moved over into classic rock riffola, before returning to the singalong refrain again.
The snake-hipped menace of The Lost Art Of Keeping A Secret completed this Saturday night start to the set.
Homme knew what he had unleashed and he liked it, breaking for numerous sweet and cool interactions with the fans. "I saved your life? You saved my life," he emphasised.
There were moments of musical vulnerability, too. Emotion Sickness highlighted the band's strong melodic and harmonic sense with even the subtlest of nods to fellow Californians Crosby, Stills, Nash & Young.
Inevitably, however, when the requests rolled in, they were for the more rabble-rousing likes of Paper Machete and the glam metal stomp of Burn The Witch.
Variety was the spice of the set – the classic rock with a gothic twist of Better Living Through Chemistry was followed by the nosebleed boogie of Sick Sick Sick, while Homme lit a post-coital cigarette in anticipation of the sultry funk effect of Make It Wit Chu.
By the encore, the band had earned their solos, especially superhuman drummer Jon Theodore, but Queens are much more about the groove than the noodle and were diverted back on track soon enough to deliver the blunt boogie and Black Sabbath flourishes of A Song For The Dead.