A few hundred yards from the silvery Tay, the Blue Danube Waltz offered romantic, river-inspired New Year escapism for Friday's sizeable Perth audience. It was the opening night of the RSNO's touring Viennese Gala, which has also covered Dunfermline and Langholm, and continues this week in Inverness, Musselburgh and Greenock.
A generally formulaic programme, nimbly conducted by David Niemann and compered by Scots tenor Jamie MacDougall, was dominated by confectionary gems from the Strauss brothers – the "Waltz King" Johann II and sibling Josef: the former through the glitter offavourites like the Thunder and Lightning Polka, the Emperor Waltz and the Overture to Die Fledermaus; the latter represented solely by his comedic polka Without Worries.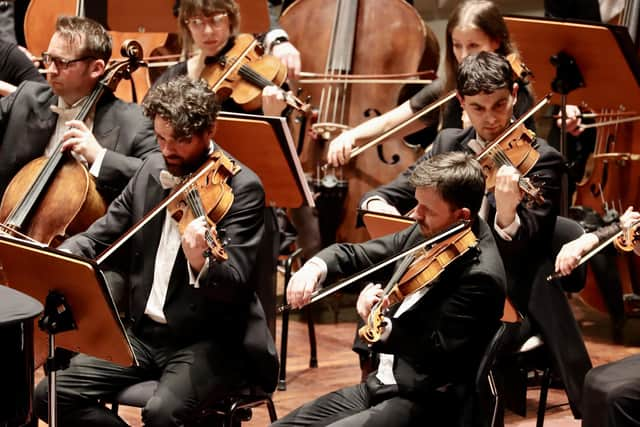 Add to that their father Johann's bristling clap-along Radetzky March, and Johann II's lesser-known Künstler Quadrille (a dizzy potpourri of knitted-together themes from Mozart to Mendelssohn) and you have the tuneful framework of a brisk programme peppered with enough non-Strauss to prevent us overdosing on too much of the same.
The performance also included some classic numbers from Brahms and Delibes (a rather messy Pizzicato Polka rocking an otherwise smoother musical journey); the punctuative vocal interjections of Werner Heymann's 1930s German silver screen ballad A Blond Dream; Rudolph Sieczyński's Vienna, City of my Dreams (made famous by the tenor Richard Tauber in the 1935 film Heart's Desire); Charles Marshall's I Hear You Calling Me; Mexican composer Juventino Rosas' Caruso-classic The Loveliest Night of the Year; and Paolo Tosti's heart-rending L'ultima Canzone.
The songs featured the versatile MacDougall, calling on the influences of his grandfather's record collection to emulate the golden sentimentalism of legendary bygone tenors. His cosy repartee and personable anecdotes chivvied things along nicely in an evening notable for its inoffensive charm.