Carol Ann Duffy, who was brought up in the Gorbals area of Glasgow and became the UK's first female poet laureate, has created a 25-strong series of online lessons with the BBC. She will encourage people to write poetry based on their recollections of a love affair, a bereavement or a celebration as part of the e-learning course.
Duffy, Poet Laureate from 2009-2019, advises aspiring poets should see "streetwise language" as their paint or "raw material", and not in any way inferior.
In a video trailer for the course, she compared a sonnet to "a solemn glass of port" and a haiku to "a shot of tequila".
Duffy compares poetry to "a baton that's passed on through the centuries" – for learning shapes and experiments, but also teaching new ways to be inventive. Each BBC Maestro course, which can be purchased for a one-off fee of £80, can be watched by participants as many times as they like.
Last year Sir Billy Connolly gave advice to would-be comedians through a series of his own lessons on the same BBC Maestro platform, which will launch Duffy's course on January 12.
The authors Lee Child and Julia Donaldson have previously launched BBC Maestro courses on writing popular fiction and children's picture books. Other participants since the platform launched in 2020 include Take That star Gary Barlow, Line of Duty screenwriter Jed Mercurio and chef Marco Pierre White.
Duffy will tell participants: "There's a kind of magic surprise about writing a poem. I really want to share that with you and help you to relish the surprise and excitement of each poem.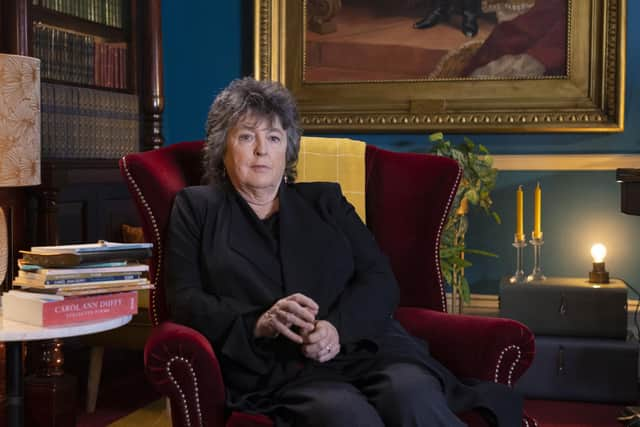 "A good poem only seeks to add something to the world, something that wasn't there before. What I want you to do is bring out your own creativity, your own words, your own unique voice, and help you to have confidence in what's within you.
"A common mistake in poetry is to think that there are poetic words. I think words need to be living and not decorative.
"We mustn't think streetwise language is inferior, or it isn't poetic. Of course it is. This is your raw material. This is your paint. You will make your poem out of whatever language you choose to put on that page.
"All you need is your memory, your interests, the way you talk, stories that you grew up with, the recollection of a love affair, bereavement or celebration. All these are within you. The only actual thing you need to have in your hand is a good pen and a new notebook."
Speaking in the trailer, Duffy said: "Poetry is the music of being human. What we find when we write poems is that we understand more about ourselves and the world that we live in.
"Poetry comes from celebratory things, as well as very dark and painful things. It can be an interrogation of being alive. You will get attuned to the world, with an ear half-cocked, and an eye looking, behaving in the way poets should, I think, like a spy."