But James Cosmo's latest film is a far cry from his previous characters – playing a leading role in a love story for the first time at the age of 74.
Cosmo, whose screen career spans nearly 60 years, plays a retired Irish sea captain in My Sailor, My Love. His character initially resents the presence of a carer hired to look after him – only for romance to slowly blossom.
The English-language debut of Finnish director Klaus Härö focuses on Cosmo's character Howard, widowed housekeeper Annie (Brid Brennan) and Howard's daughter Grace (Catherine Walker), who becomes increasingly bitter towards the new love of her ailing father.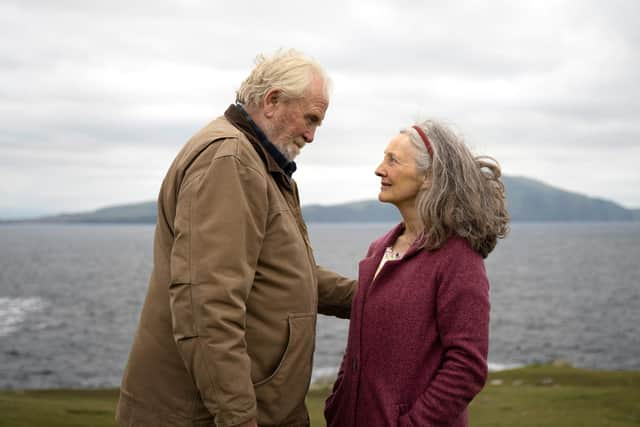 The film was made at Achill, in County Mayo, where the actors spend a week together discussing the story and intense relationships between the characters, which unfold as a painful back-story to the father-daughter friction emerges.
Cosmo said: "I hadn't been aware of Klaus's work when I was sent the script, which I thought had a lot of potential. I was sent one of his previous movies, The Fencer, which was just gorgeous and I was very excited about working with him. When we spoke on Zoom, it really filled me full of confidence.
"We were very lucky to have the indulgence of a week in Achill before we started filming. Myself, Brid, Cathrine and Klaus sat going through the script, and talking about the characters and our own experiences. It made a huge difference coming onto the set – we were already a little unit.
"I've never really worked out why that rarely happens. You get so much work done and when you go onto the set, you don't really have to ask questions as you've already asked them. It's a really intelligent way of doing it. If we hadn't done that on this film, it wouldn't have had the nuance. We had time to really go into it in depth and hopefully it shows."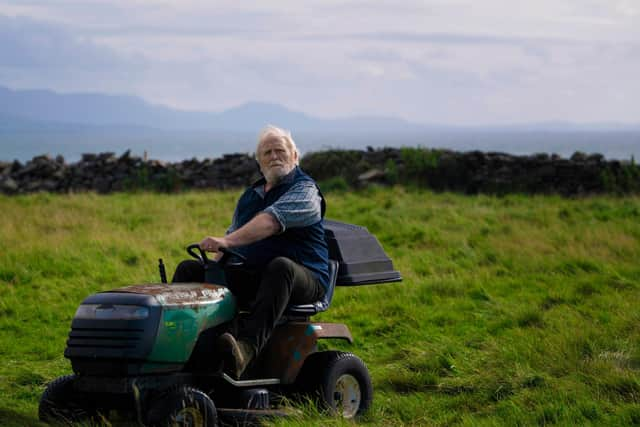 Cosmo will be one of the biggest Scottish stars on the red carpet at next month's Glasgow Film Festival, where My Sailor, My Love will be premiered. His role is a major departure for the actor, he admits.
He said: "The first proper kiss I've had on screen was in His Dark Materials and that was only about four years ago. It took me more than 50 years to get kissed on any production.
"I don't know what that says about me – or people's view of me – but it took a bloody long time. I've killed hundreds of people on film."
Cosmo describes My Sailor, My Love as "a very personal story about love, sadness, love and betrayal told through the microcosm of these three people". He said: "Howard has had a colourful and adventurous life, which detracted from his own family life.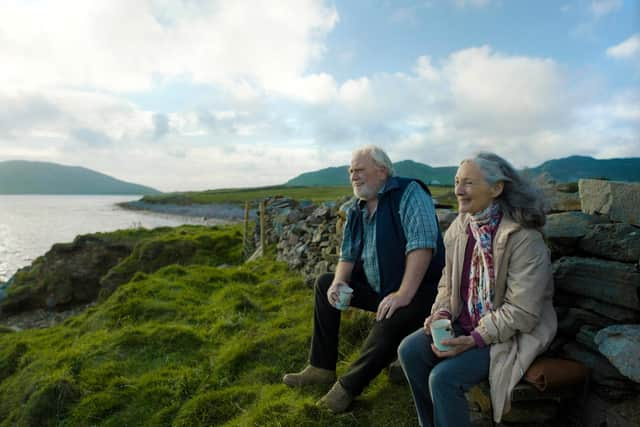 "He's now passing the time doing crosswords and is sort of ossified in a mausoleum of a house. You feel for his daughter as their relationship has hit a brick wall somewhere because of things that have gone on.
"Grace's own life is sort of breaking down, but she also has this old man who is carnaptious and bad-tempered. I think Annie sees past the character that Howard has developed and the resentment he almost has towards the world.
"She looks at all the old photographs of where he has been and what he was. She understands where he is in his life. Annie basically comes into his life and says to him 'you're not finished, you're never finished till it's over'. They find real joy together. He suddenly feels like a man again because of the love this gentle and caring lady brings to him.
"It's beautiful, but it's also tragic because his daughter sees this happening and it's nothing to do with her. The one thing she wanted was a real relationship with her father and she never gets it. You really feel for her.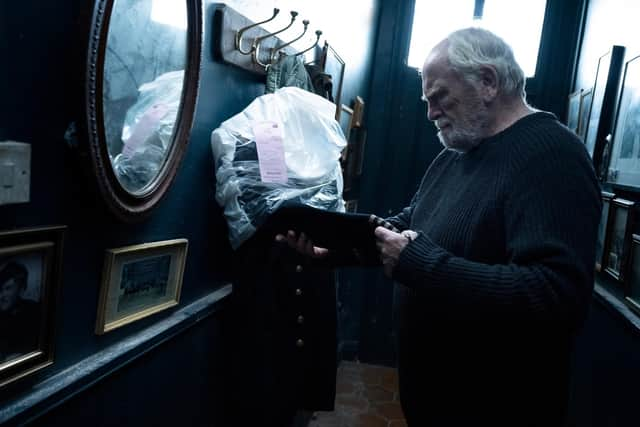 "Everything around her is falling to bits, but her father is not there to support her. There is too much baggage which neither of them will confront. She still loves her father and spends time with him, but gets absolutely nothing from him. It shows the dichotomy that someone can be one person to someone and a completely different person to another."
My Sailor, My Love was filmed in 2021 in Achill – a location that had a profound impact on Cosmo, thanks to the spectacular scenery and the welcoming locals. Many appeared as extras, particularly in one of the most touching scenes, at a local wedding, which features a cameo from Irish singer-songwriter Finbar Furey.
Cosmo recalled: "When Klaus played me a recording of this Irish song by Finbar, I told him that if he didn't have it in, it wouldn't be the film we hoped to make. I'd never met Finbar before, but when I walked in to film the scene we gave each other a big hug. I loved filming that scene. When this lovely song is being played, this old man is basically opening his heart. It's beautiful.
"All the people in the hall were natives of Achill. It reminded me a little bit of the original Whisky Galore! when a lot of the islanders were extras. It added a lot of reality to it.
"I was so fond of the people of Achill, they were so glorious and friendly, and it was an amazing place. I had a lovely cottage overlooking the Atlantic and could actually see Howard's house.
"It's harsh, harsh land and an unforgiving place. But, as is often the case in very harsh conditions, you find people are so much more welcoming and have a real community where they look after each other.
"I really felt that peace descended on me in that cottage. It was wonderful."