Shirley Henderson stars in Mackenzie Crook's Worzel Gummidge TV film on Christmas Eve
Christmas Eve, you're in your festive bubble, what are you going to watch on the telly to keep everyone from four to 94 smiling?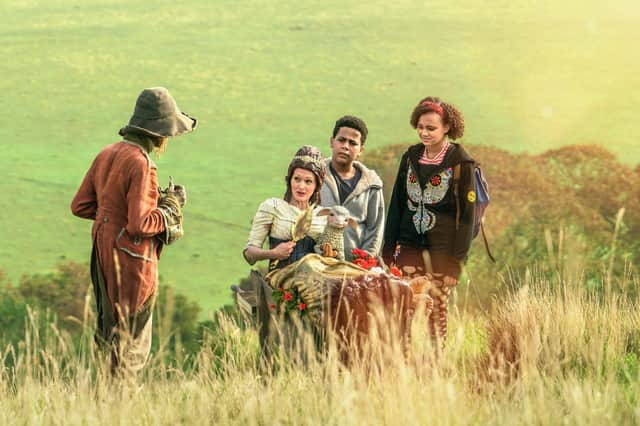 Among the top telly tips for this year is Mackenzie Crook's Worzel Gummidge: Saucy Nancy with Scottish actor Shirley Henderson starring alongside a stellar cast including Vanessa Redgrave and Brian Blessed (trapped in a tiny scarecrow body), while rejoining Crook as Worzel are Steve Pemberton and Rosie Cavaliero as the Braithwaites, India Brown as Susan and Thierry Wickens as John.
Following last year's much loved five-star festive adaptation, Crook has come up with a Christmas cracker of a new one-hour adventure to be screened on BBC1 on the 24th for prime time family viewing.
Henderson plays the title role of Saucy Nancy, a carved wooden ship's figurehead, foul-mouthed and frustrated, discovered by Worzel, Susan and John languishing in a scrapyard in Scatterbrook. Saucy Nancy longs to return to the sea and find her ship so they vow to get her there and set off for the coast on a journey on foot, bus, wheelbarrow, motorbike and sidecar. But will Nancy's ship be waiting?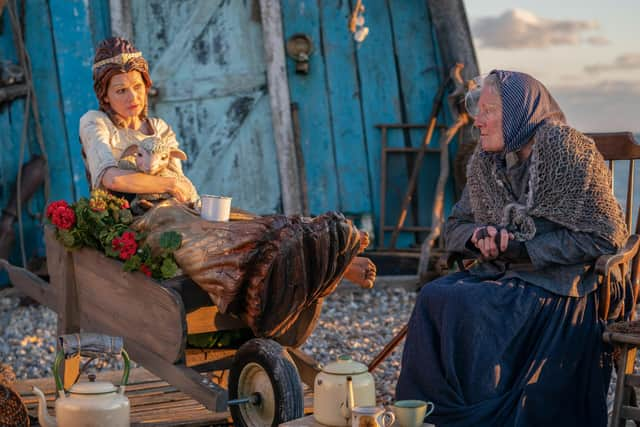 "I'm excited and grateful to be making a new episode of Worzel Gummidge after a difficult year for everyone," says Crook who has adapted one of the original books by Barbara Euphan Todd.
After a year of lockdown and restrictions, the moorland and seaside setting of the show will chime with TV audiences longing to make it outdoors.
"We're heading out of Scatterbrook for this story, on a day trip to the seaside, some fresh air and some wide open space," says Crook.
Filming was delayed due to Covid and as a result the cast were working in torrential rain and chilly conditions on wild moorlands and shorelines.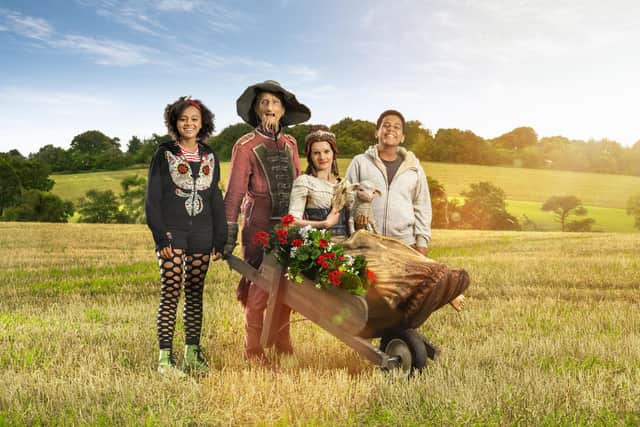 "We had awful weather, days of torrential rain, but we got away with it and it all looks beautiful on screen," says Crook.
Meanwhile Vanessa Redgrave says she and Henderson "nearly died of the cold" filming at the "astonishingly beautiful" coast: "In the face of such adversity, I think we were both brilliant!"
"It was the first time I'd worked with Shirley so that was a real pleasure," she says. "I'd heard from a lot of people in my family about her wonderful work."
Rosie Cavaliero, who plays Mrs Braithwaite, also heaps on the praise for Henderson, saying: "Shirley and I worked together many years ago on a Mike Leigh film, Topsy-Turvy, so it was lovely to see her again. She's amazing, and what a great choice for that role. She's got this doll-like quality which is extraordinary and she's an incredible singer so those scenes will be a real treat for everybody."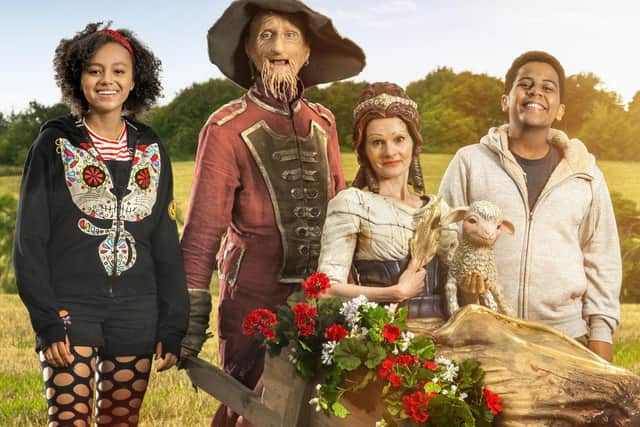 Henderson's Saucy Nancy is an old friend of Worzel's, but Crook has been happy to deviate from the book to take the story off on an adventure, and who doesn't yearn for a day at the seaside?
"It's a really simple road trip story," he says. "Worzel and Saucy Nancy, of course, can't be seen by other humans so it's about the mischief and adventures that befall them as they try to make the journey. It's a change of scenery and a day away from Scatterbrook Farm."
Thanks to Crook, music plays a big part in Worzel as it did in his Detectorists, and this time there are sea shanties from The Unthanks, the North East of England folk band, who appear in scenes at the end of the film and also wrote a song for Redgrave and Henderson to sing.
Being a salty old sea dog, Saucy Nancy has a colourful turn of phrase, so Crook made up nonsense swear words for Henderson to relish and to get his young audience sniggering.
"I had a great time writing a list of rude things you can write on a cow for the last episode," he says. "This time Saucy Nancy is this hardened sailor and so it's supposed to sound like swear words but not quite right," he says.
"The thing I realised about Worzel was that his whole life is pretending to be a human and sometimes he gets it right and sometimes he gets it wrong, and it's the same as Saucy Nancy. She's pretending to be human. She's trying to use foul language but she's not got it quite right."
Family friendly then, a demographic that needs no introduction to Henderson who played Moaning Myrtle (the ghost of 14-year-old Myrtle Warren) in Harry Potter and the Chamber of Secrets, and again in Harry Potter and the Goblet of Fire: a performance even more impressive given that she was 37 when she first played the schoolgirl and 40 in the follow-up.
Henderson has always been versatile in the numerous roles she has played in the three decades since she left Kincardine in Fife for London to train at the Guildhall School of Music and Drama when she was 17, imbuing each character she inhabits with a sensitivity and depth that commands the attention.
On graduation she worked in theatre and TV, with a starring role in BBC's comedy drama Hamish Macbeth in 1995 raising her screen profile. Her big screen credits include Trainspotting in 1996, Mike Leigh's Topsy-Turvy in 1999, Wilbur Wants to Kill Himself in 2002 and Filth with James McAvoy and Eddie Marsan in 2013. She won plaudits for her portrayal of a woman with Parkinson's in the 2017 film Never Steady, Never Still, and more recently played Lucille Hardy, with Steve Coogan and John C Reilly in Stan and Ollie. On TV she was nominated for a BAFTA for Channel 4 crime miniseries Southcliffe (2013) again with Marsan, starred in the BBC drama Happy Valley in 2016 and most recently was in this year's Scottish BAFTA nominated BBC drama The Nest. With singing and dancing also in her repertoire, she carried off the 2018 Olivier Award for Best Actress in a Musical for her role as Elizabeth in the original production of Girl from the North Country and she is no stranger to comedy, from Hamish Macbeth to Bridget Jones to Bob Servant, making her a natural choice for Crook's fun-filled family romp.
What made you sign up to this project?
The main reason was Mackenzie. I worked with him once before many many years ago [in 2013 film In Secret, an adaptation of Emile Zola's novel] and he was just lovely. So it was a combination of working with him and seeing what was in his head, and the beautiful script: it's a delightful story and a really fun character.
Saucy Nancy is a ship's figurehead who's been dumped in a salvage yard years ago and been forgotten. She's gathering dust amongst all the old furniture and is miserable. Then she hears this voice she recognises and it's Worzel. They were drinking buddies when they were younger. They go off on this big adventure and she gets out of the salvage yard.
Tell me about the language she uses.
She speaks in her own way: she's very expressive. I suppose it's shocking language to Worzel, he thinks she's being absolutely awful and swearing but at the same time he enjoys it.
There's not a real swear word in the whole thing, nothing you'd recognise as filthy, but there's a sense of something naughty about the words.
She's got a reputation for it. It's just how she is. Worzel's worried the children will be shocked but I think it goes over their heads. It's very funny.
I liked 'spandy-legged tossle-head'. That feels quite delicious in your mouth.
Can you tell us a little about Saucy Nancy's look?
There's a sense she was once pretty but she's well worn now. There's a stiffness to her and she's unable to move herself properly. She pulls herself around with her hands.
The costume is partly prosthetics. It was hard because of Covid, we couldn't sit in chairs for too long, so I flew to London and had a couple of fittings. The team worked as quickly as they could while I was there, then after I left they spent longer manipulating the prosthetics to the dimensions of my body. Then we had to work out quite a lot of it on the day and how she would move in these prosthetics. It was very difficult to wear. On the day it took a long time to fit because you're having to work with one person with a visor on their face. All the doors had to be wide open for Covid so it would be four in the morning and absolutely freezing!
How did you enjoy working with Mackenzie?
He's lovely, very gentle. He's doing the same thing as you: as he's directing he's also acting so he trusts you to do your job. He's very understated and comfortable to work with. You're not being shouted at: it's an ensemble piece and you're all in it together. It was absolutely delightful.
How did you get on with your other co-stars?
The kids were just easy and comfortable and relaxed and inventive and wanting to do the best they could. We got into a lovely rhythm together. They were running around chasing and playing games in between scenes which was lovely.
And Vanessa was extraordinary. I had an evening with her at the beach and I'll never forget it. I couldn't believe it was her, sitting right next to me! There was that voice, and that face, right there. It was wonderful to watch her process.
We had to sing together but we'd had no practice or rehearsal because of Covid so we were both not sure of what we were doing. We had to just find it. It was vulnerable, but she was extraordinary and I'm thrilled to have spent one day of my life with her.
The film is a love letter to the countryside and the coast: are you a fan of the outdoors?
It's a place you run to. You grow up going to the beach for holidays in your own country. We used to go up north to the empty beaches of Scotland so it's very much in me: the breeze, the wind, the smells.
It was absolutely wild weather when we were filming: torrential rain one minute then sunny. But I grew up with all of that. I know it. It really took me back, and I loved it. There was something magical about the wildness and I think it will look incredible on camera.
We spent a lot of time filming in the countryside too. We're very lucky as actors, we get to see places we wouldn't necessarily come across usually.
Is it an added excitement that this is being shown at Christmas?
It does feel like an uplifting thing to just enjoy and not be stressed. If we've got nothing else to do at Christmas, and we're not allowed to go out, we maybe have to just sit and be taken on a journey. I hope people will smile and feel good about life for a little while during these strange times.
Set sail on Christmas Eve with Worzel Gummidge: Saucy Nancy, and if your heart isn't warmed by this seaside adventure, well you're just a 'spandy-legged tossle-head'.
Worzel Gummidge: Saucy Nancy is on BBC1 on Christmas Eve at 5:55pm