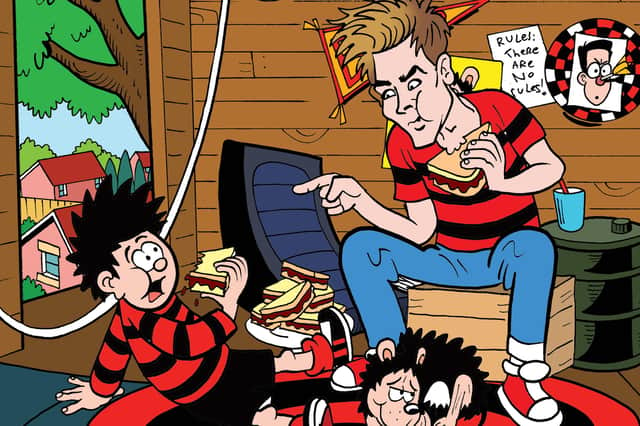 A special edition of The Beano is to mark seven decades since Dennis The Menace first appeared in the comic.
Mike Stirling, editorial director of Beano Studios said: "We're celebrating 70 years of Britain's favourite 10-year old! For 70 years, the Menace family has been spreading laughs and unique Beano cheer across multiple generations of children and adults alike.
"It's fantastic to see the impact today's Dennis has on kids, just like his dad and grandad did before him for readers in the fifties-eighties.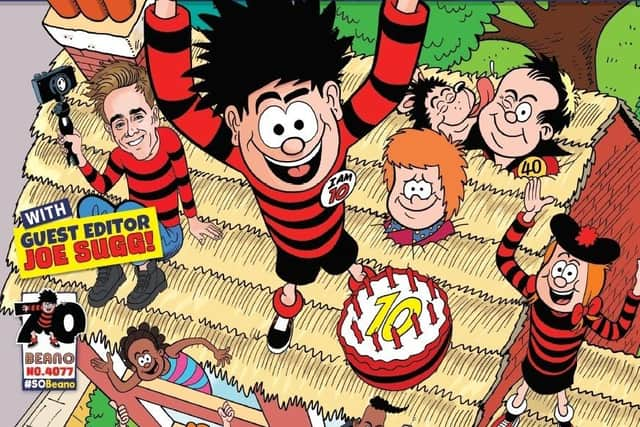 "We believe that everyone has a little bit of the Dennis spirit within them, so this 17 March, on his birthday, we're encouraging everyone to be more Dennis for one day to see how many laughs and smiles you can spread."
Here is everything you need to know about it.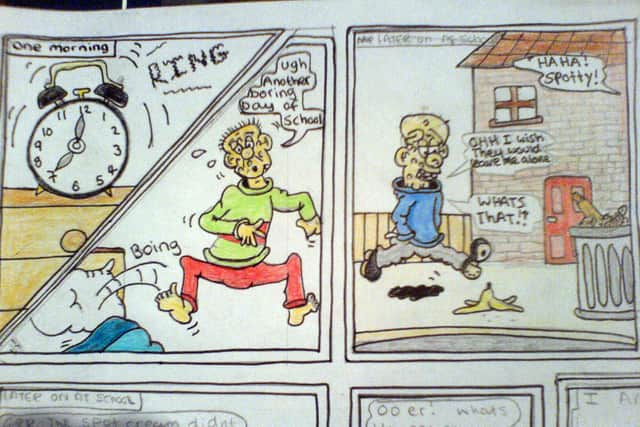 The special issue, which celebrates 70 years since the character made his debut on 17 March 1951, features YouTuber and former Strictly Come Dancing star Joe Sugg in his own comic strip.
It includes a bespoke illustration from long-time Dennis artist Nigel Parkinson showing changes to the character's appearance over the decades.
Sugg has also penned multiple strips for the limited edition comic, including creating his own Beano character Archie Ology.
The strip Birthday Prank-Ageddon sees Joe team up with Dennis for a prank on Beanotown and refers to his stint on Strictly and pokes fun at his fainting spell in the Bake Off tent.
Why has Joe Sugg been chosen as guest-editor?
Sugg is a lifelong Beano fan, and as a child would practise drawing his favourite Beano characters – in his editor's letter he shares a comic strip he drew in his youth.
It features himself alongside his favourite Beano character at the time, Calamity James, as well as a childhood photo of himself sporting a Dennis-inspired black-and-red striped coat.
The special edition has been expanded into a 48-page bumper edition to accommodate all of Sugg's ideas.
He said: "I am incredibly excited to be the guest editor of Dennis's birthday comic. I grew up with Dennis, reading Beano each week, and I can't wait for readers to see all the fun, pranks, and surprises we've worked into the special issue.
"This really is a dream project for me."
The Dennis 70th Anniversary issue of the Beano with Joe Sugg is available in shops and online at Beano.com/Dennis70 from 17 March. Subscribers have been receiving their copies from 13 March.
What else is happening to celebrate?
As well as the 70th birthday edition of the comic, a new Beano board game is also being released to celebrate the anniversary of Dennis first appearing in the comic.
Released by award-winning board game creator Rachel Lowe – who is known for her range of board games including ones based on Call The Midwife and WWE – the game focuses on an average day in the school playground when the gang decide that it is time to play some pranks.
Players take turns to journey around Beanotown and try to complete pranks whilst avoiding being caught by the teacher. The player to prank six different locations first will win the game.
Dennis' has also had some birthday tartan created by Highlands-based Prickly Thistle in a unique collaboration with Beano Studios. The "sustainable" tartan consists of Dennis' favourite black and red colours, just like the jumper he has worn for seven decades.
The design was officially launched on 17 March, and an artisan collection of products in Dennis's Birthday tartan, jumpers, scarves, and braces, will be available on 17 March 17 via Prickly Thistle's online shop.
A 200-piece and 1,000-piece puzzle featuring more of the comic's characters, including The Bash Street Kids, will also be released later in the year.