Hifi Sean and David McAlmont would like it to be known that they are a band. They may not have a band name – they briefly tried on McHifi for style, though that didn't last – but they are a dynamic duo who have found each other decades into their respective careers to produce the ravishing "posh DIY record" Happy Ending.
Hifi Sean is well known round these parts as Sean Dickson, erstwhile frontman of Bellshill-birthed combo The Soup Dragons, who hit big with a cover of The Rolling Stones I'm Free as indie went mainstream at the turn of the Nineties. David McAlmont is one of the UK's best loved but lesser spotted singers, whose soaring soul voice has graced collaborations with Bernard Butler, David Arnold and Michael Nyman as well as his own solo work. The pair are positively giddy about what they have created together.
"I couldn't find a better partner to work with," says McAlmont. "It's very easy to say that your most recent album is the best work you've done but this does feel like the best album I've made. I listen to all my other albums with questions but that doesn't happen with this one."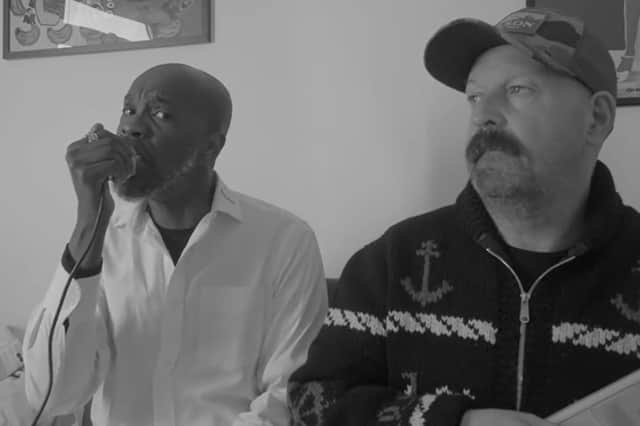 The path to this Happy Ending has been a long one, and fraught with personal issues for Dickson who had forsaken frontman duties in the Nineties. Living in Glasgow, New York and London, he kept his head down and his hand in by DJing as Hifi Sean, before coming out as gay. Guilty at the impact on his family (he was married with kids), he suffered a breakdown but gradually found a path back to recording.
Dickson and McAlmont first worked together on the track Like Josephine Baker from Hifi Sean's 2016 album Ft., populated by a host of Dickson's dream guest vocalists, from Yoko Ono to Bootsy Collins, B-52 Fred Schneider to Dickson's old Bellshill mucker Norman Blake of Teenage Fanclub.
"I lost a lot of confidence in myself as a frontman and as a singer," says Dickson. "I really didn't realise that 15 years had gone by that I hadn't made an album, so I came up with the concept of Ft., going through my record collection and choosing people that I loved because of their uniqueness. Meeting David was one of the highlights from it and look what's happened."
Dickson, meanwhile, had been on McAlmont's radar since the early days of The Soup Dragons, through their several musical incarnations, and then through Facebook friendship which meant that Dickson's original approach didn't come entirely out of the blue.
"Knowing that Sean was a shape-shifter had a lot to do with it," says McAlmont. "Before we worked together, I knew I would be understood because I knew that history, and when we worked together I was really impressed by the sound that he made. I secretly hoped while we were doing Like Josephine Baker that he would ask me to work with him again.
"Don't listen to him – he played hard to get," laughs Dickson. "I thought I really want to make this an album but how do I go about asking – 'you know how we've got two songs that we've written? How about we do another eight and we might have an album?' David said 'I'll have a think about it and I'll call you tomorrow'."
Thankfully that flirtatious first date has blossomed into a beautiful musical relationship – and Beautiful is the album track the duo have filmed for the Scotsman Sessions, together on Dickson's couch in the London tower block flat where most of the album was made.
The duo were already recording in lockdown conditions well before the pandemic, firing voice notes and backing tracks across the wires. The album's lush Bollywood strings were one of the few elements recorded in a proper fancy pants studio before Dickson mixed the results himself – by night in a beach hut on Camber Sands with no one else in the vicinity so he could mix as loud as he liked.
This self-sufficient approach has served them well. Happy Ending is a sumptuous beast of an album, a seamless collision of tremulous torch pop, grand, romantic strings, brooding electronica, glistening omnichord and McAlmont's remarkable and eminently recognisable voice. The chemistry is palpable, and will be repeated, with the duo already working on new material, and taking their first steps as a live act.
"We've got a complete high out of how this album's turned out," says Dickson, "so we've gone into the difficult second album full of spunk, banging it out and having a very DIY ethic to the whole thing. I come from the Joe Meek school of making records. I wanted to take it back to me aged 14 with a portastudio and a synth and a drum machine and my mum banging the ceiling telling me to shut up – and I've got that feeling again, it's great."
McAlmont has his own reasons for keeping the momentum up. "I've got a reputation for being a serial collaborator," he says, "but I think I've landed on my feet here and I want to reassure the audience that invest in Happy Ending that there's more of us, that we're not just gonna do this and then suddenly there I am next to somebody else – that's not what this is and so the only way to prove that is to do the next album as soon as possible."
Happy Ending is out now on Plastique Recordings/Last Night From Glasgow