Many musicians made the most of the live music purgatory of lockdown, testing new models, trying new collaborations, forming new bands. But only one can say that he produced one copy of an album which he promptly buried somewhere on his native Orcadian soil for treasure hunters to unearth (or not).
Like a real life episode of Detectorists, the quarter-inch magnetic tape of Erland Cooper's Carve the Runes Then Be Content With Silence lay "recomposing" on a hill just outside Stromness for 18 months before being discovered last September by local couple – and tape enthusiasts – Victoria and Dan Rhodes, who studied photos of rock formations to divine the location before Cooper had finished drip-feeding all the clues.
"There are over 70 islands in Orkney," says Cooper, "but I planted the tape close to home, on the hill that overlooks the town where I was raised, under Brinkies Brae. I'm so impressed with Dan and Victoria's commitment and inquisitive minds in finding it. It feels like nature has spoken, asking them unearth it now. It may not have survived another Orkney winter."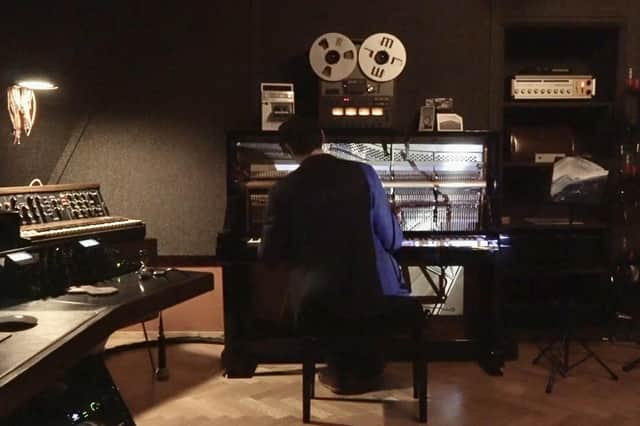 The Brinkies Brae location is appropriate for its connections to Orcadian poet George Mackay Brown. Carve the Runes is a three movement suite for solo violin and string ensemble written to mark Mackay Brown's centenary in 2021. Now that the tape has been retrieved – along with a violin and score buried with it – and returned to Cooper, he will transcribe the music (for added obscurity, he had deleted all the original masters) as it sounds after its interment before sending the tape on tour round the country as an archaeological artefact.
"The work is a meditation on value as well as the often disposable nature of music," he says. "Now the tape will dry out on display in public, in those safe havens that support my music – invaluable, independent record shops."
The general public will have to wait until June 2024 to hear the work performed live at London's Barbican. The recorded version will be released by Mercury KX, who have been kept entirely in the dark about the content of the composition.
However, Cooper fans don't need to hang on that long for new music from the inventive Orcadian composer as he announces another album imminently, previewed here in his second appearance at the Scotsman Sessions with a piano and tape rendition of Movement 5."This is the tipping point in the record and features a sort of voice murmuration," says Cooper, who recorded this special rendition in his Aladdin's cave of a studio in London. "I hope in this new work, a listener will be rewarded for their patience from a cold, glacial ascent by a slowly thawing, burning hope."