It must have been quite an omelette – a staple at Glasgow's late, lamented Café Hula, a favourite rendezvous for students at the nearby Royal Conservatoire of Scotland – certainly if cellist Juliette Lemoine's composition is anything to go by.
"Café Hula became a bit like a second home, especially as there was a session there," explains Lemoine, a first-class honours graduate of the RCS's traditional music course who plays her composition, named after said dish, for the Scotsman Sessions. "They had this Persian Omelette – it was absolutely huge. I'm not sure why I named the tune that; just something that stuck in my mind from Café Hula."
The composition, performed here solo, exemplifies something of the sense of life-affirming optimism which informs the 25-year-old's captivating debut album, Soaring, from which the tune is drawn. Launched at January's Celtic Connections, the recording sees her in the company of three other notable RCS graduates, pianist Fergus McCreadie, saxophonist Matt Carmichael and fiddler Charlie Stewart.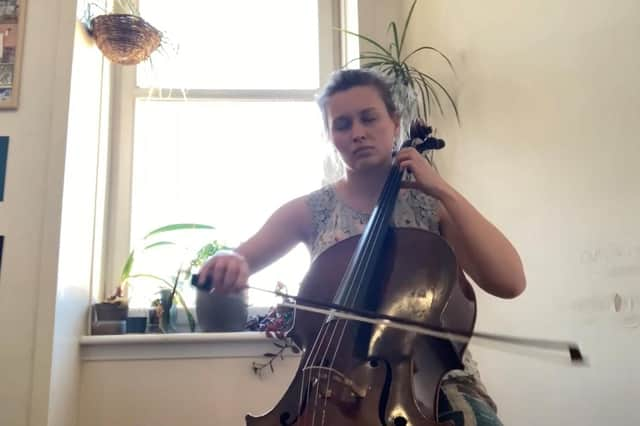 Aimed at giving the cello a greater lead role in traditional music, Lemoine's playing is a very personal synthesis of traditional jazz and classical elements. Right from the daybreak glow of its opening track, Arising, the album expresses, as Lemoine puts it in her sleeve notes, "the overwhelming sense of freedom I experienced last year".
Not only was the Glasgow-based musician poised to graduate, but she had been able, finally, to put behind her years of serious illness. "It hadn't been a very good patch of my life, so when I recorded the album I felt that, finally, I was over it. It felt like a really good moment in my life."
Swiss-born but raised in Scotland, with both parents classical musicians, Lemoine played classical music until her mid-teens, but was drawn increasingly to other genres and made friends with some fiddle players. "Maybe it was a youthful reaction against classical," she laughs. "I remember listening to recordings by Grappelli or the Gypsy Kings and being really jealous of what they were doing. It wasn't as if it was better music; I just envied their freedom."
She welcomes the current increasing level of collaboration between genres. "I love playing classical music," she stresses, but adds: "It's amazing being in the Conservatoire watching the Grit productions (Greg Lawson's orchestral arrangements of the late Martyn Bennett's compositions) and all the cross-genre stuff."
She acknowledges the important contributions of cellists such as Su-a Lee, Natalie Haas, Alice Allen and Ron Shaw in heightening the cello's profile on the folk scene, and is anxious to put her instrument into the role usually occupied by the fiddle in "driving the narrative" in Scottish traditional music.
Lemoine launches a spring tour at Dundee's Caird Hall on 14 April with McCreadie, Carmichael and either Stewart, Chloë Bryce or Eryn Rae on fiddle, depending on the venue.
She is also no mean painter, producing her album's sleeve artwork as well as cityscapes, lively pub session images and a neat sideline in decorated instrument cases, not least for her own, genre-straddling cello.