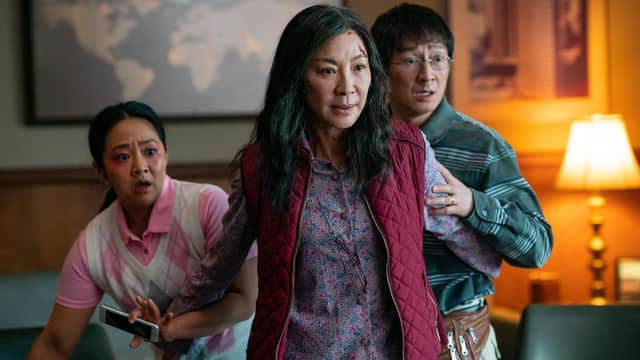 Veteran actor Jamie Lee Curtis landed the Best Supporting Actress gong, while history was made with Michelle Yeoh becoming only the second woman of colour to win Best Actress and Ke Huy Quan becoming the first Vietnam-born winner after lifting the Best Supporting Actor roll.
Here's what you need to know about the film and how to watch it.
What is Everything Everywhere All At Once about?
Chinese American immigrant couple Evelyn Juan Wang (Michelle Yeoh) and Waymond Wang run a landromat that is being audited by the IRS. Meanwhile Waymond is attempting to divorce Evelyn, whose father is visiting for a Lunar New Year party. The couple's daughter Joy is in a same-sex relationship – something Evelyn seems to be finding it hard to accept.
The kitchen sink drama takes an unexpected turn when Evelyn finds out she needs to travel into different parts of the multiverse in order to stop a powerful being from destroying existence itself. This leads her to discover all the lives she could have lived had she made different decisions along the way.
The film is a mix of several different genres of movie, including surreal comedy, science fiction, fantasy, martial arts films, and animation.
What Oscars did it win?
Here are all the awards the film won:
Best Director: Daniel Kwan and Daniel Scheinert
Best Actress: Michelle Yeoh
Best Supporting Actress: Jamie Lee Curtis
Best Supporting Actor: Ke Huy Quan,
Best Editing: Paul Rogers
Best Original Screenplay: Daniel Kwan and Daniel Scheinert
How can I watch Everything Everywhere All At Once?
Everything Everywhere All at Once hit UK cinemas back on May 13, 2022, and has been available to watch at home for some time now.
It is available to stream for free for Amazon Prime members, which you can try for free for 30 days here.
It's also widely available on DVD and Blu-Ray formats, and can be purcahsed to stream on a number of platforms, including Apple TV and Google Play.
What did Michelle Yeoh say?
Michell Yeoh's acceptance speech was one of the highlights of the evening. Here's what she said in full:
"Thank you, thank you. For all the little boys and girls who look like me watching tonight, this is a beacon of hope and possibilities. This is proof that ... dream big, and dreams do come true. And ladies, don't let anybody tell you you are ever past your prime. Never give up.
"I wouldn't be standing here tonight without the Daniels, without A24, without my amazing cast and crew. Without everyone who was involved with 'Everything Everywhere All at Once.'
"I have to dedicate this to my mom, all the moms in the world, because they are really the superheroes and without them, none of us would be here tonight. She's 84 and I'm taking this home to her. She's watching right now in Malaysia, KL, with my family and friends. I love you guys, I'm bringing this home to you.
"And also to my extended family in Hong Kong, where I started my career. Thank you for letting me stand on your shoulders, giving me a leg up so that I can be here today. And to my godchildren, to my sisters, all of them. To my brothers, oh God, to my family. Thank you, thank you!
"Thank you to the Academy. This is history in the making. Thank you!"