While the Northern Lights are most often associated with Scandinavia and the Arctic Circle, occasionally the phenomena can be seen in the night sky over Britain, with Scotland hosting many of the UK's top viewing spots.
The latest Met Office forecast reports conditions for the spectacle are expected to be suitable throughout Monday night, so here's everything to consider about how and where best to spot them.
The ideal conditions to view the Aurora Borealis are regions where the sky is dark, clear of cloud cover, and ideally away from any encroaching light pollution. This means you will want to be outside of Scotland's main towns and cities.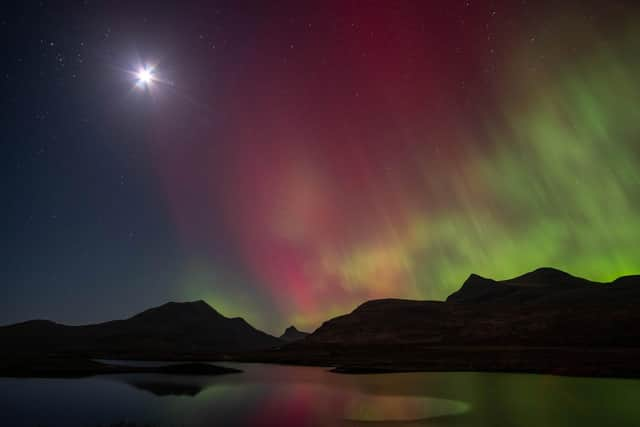 It's also essential to have a clear and unrestricted view of the northern horizon where the Earth's electromagnetic field creates the perfect environment for the lights to appear.
How to see the Northern Lights tonight
According to the Met Office, Scots could be in with the chance of once again seeing the Northern Lights. The forecast reads: "There is a similar expectation for later on 27 Feb as another coronal mass ejection arrives and there is a chance of conditions strengthening to G3/Strong geomagnetic storm levels.
"Aurora is once again possible to similar latitudes, perhaps as far south as central or southern England should any larger storm periods occur."
A Met Office spokesperson said the rare sightings of the aurora borealis further south in the UK on Sunday night were due to the "strength" of a geomagnetic storm and the "strip of cloudless skies" in southern regions.
According to AuroraWatchUK, which is run by Lancaster University's Department of Physics, sky gazers have the best chance of seeing the Northern Lights after 9pm this evening, with the tool providing a real-time status update for the aurora.
The darkest part of the night is around midnight, with star gazers likely to see the lights around then also.
Best places to see the Northern Lights in Scotland
In particular The Cairngorms National Park in the Highlands is the perfect viewing spot. Light pollution in the Tomintoul and Glenlivet areas is so low, the park was awarded Dark Sky Park status by the International Dark Sky Association.
Astrophotographers often recommend the Cairngorm Mountain upper car park as a good starting point. Its remote and high-altitude location offers unrestricted views to the north across the wider range.
Seeing the Northern Lights? Handy tips
If you're hoping to catch the lights on camera you'll need to bring a sturdy tripod, plenty of spare batteries, and have your settings primed for long-exposures of up to 30 seconds.
Make sure to also bring warm layers, a wind and waterproof coat, and a hot thermos – you may have to wait a while for the right atmospheric conditions.